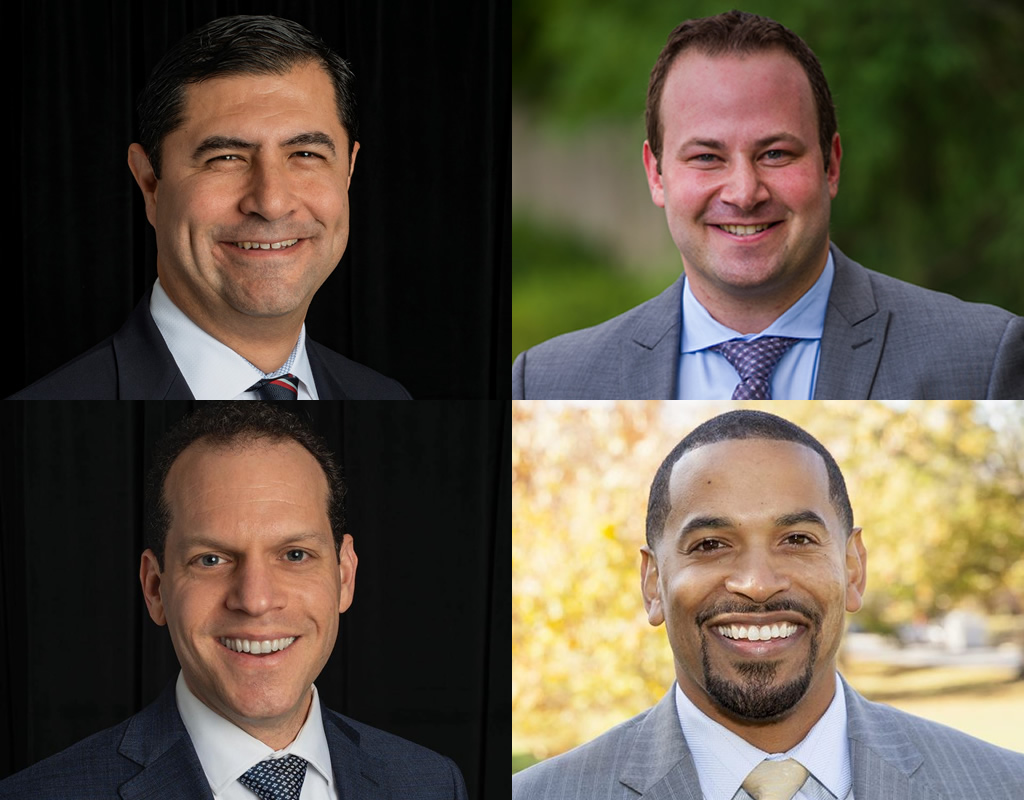 MCM's July SBN Features Councilmembers Albornoz, Friedson, Glass and Jawando
Montgomery County Councilmembers Gabe Albornoz, Andrew Friedson, Evan Glass, and Will Jawando were the featured guests for Montgomery Community Media's July Small Business Network (SBN) session. The event took place Thursday, July 18 at our studios in Rockville.
July topic: "Montgomery County is Open for Business."
Watch host Kelly Leonard and the Councilmembers discuss business in the County.
The series of monthly morning sessions facilitated by Kelly Leonard address topics of interest to small business owners in Montgomery County.
Councilmember Gabe Albornoz (At-Large) is a lifelong resident of Montgomery County and is deeply committed to the County, its people, and, as the son of immigrant parents, its diversity. Since graduating from Walt Whitman High, University of Maryland, and Johns Hopkins University, he has dedicated his career to public service and advocating for just social policies.  Councilmember Albornoz is truly "at-large," having lived in Gaithersburg, Silver Spring, Bethesda; and now, Kensington, where he lives with his wife Catherine, also a Montgomery County native, and their four young children.
Councilmember Andrew Friedson (District 1) serves on the Planning, Housing, and Economic Development and Government Operations and Fiscal Policy committees, and as the Council's Lead for Parks. He previously served as senior policy advisor and deputy chief of staff to Maryland's Comptroller, ran and reorganized the State's 529 College Savings program, and served on the Maryland Small Business Development Financing Authority.
Councilmember Evan Glass was elected to the Montgomery County Council in 2018 as an At-Large Member. He serves on the Transportation and Environment Committee and the Health and Human Services Committee, where he is the Council's lead on Homelessness and Vulnerable Communities. Councilmember Glass also serves as the Montgomery County Council's representative on the Metropolitan Washington Council of Governments' National Capital Region Transportation Planning Board and the National Association of Counties' Transportation Committee and its Large Urban County Caucus. Councilmember Glass is the first LGBTQ member of the Montgomery County Council.
Councilmember Will Jawando is an attorney, activist, and community leader. He is a member of the Education and Culture Committee and the Planning, Housing and Economic Development Committee. He also serves as the lead for Libraries.
About Montgomery Community Media's Small Business Network Series
The series of monthly morning sessions address topics of interest to small business owners in Montgomery County.
Moreover, the series offers the opportunity to invigorate and innovate businesses with insight and information from regional business leaders' presentations and question and answer sessions. Indeed, seminars and networking can enhance the success of local businesses in Montgomery County.
Montgomery Community Media is located at 7548 Standish Place in Rockville, walking distance from the Shady Grove Metro station. Free parking is available.
You can view previous speakers and events, here.
SBN is Brought To You By