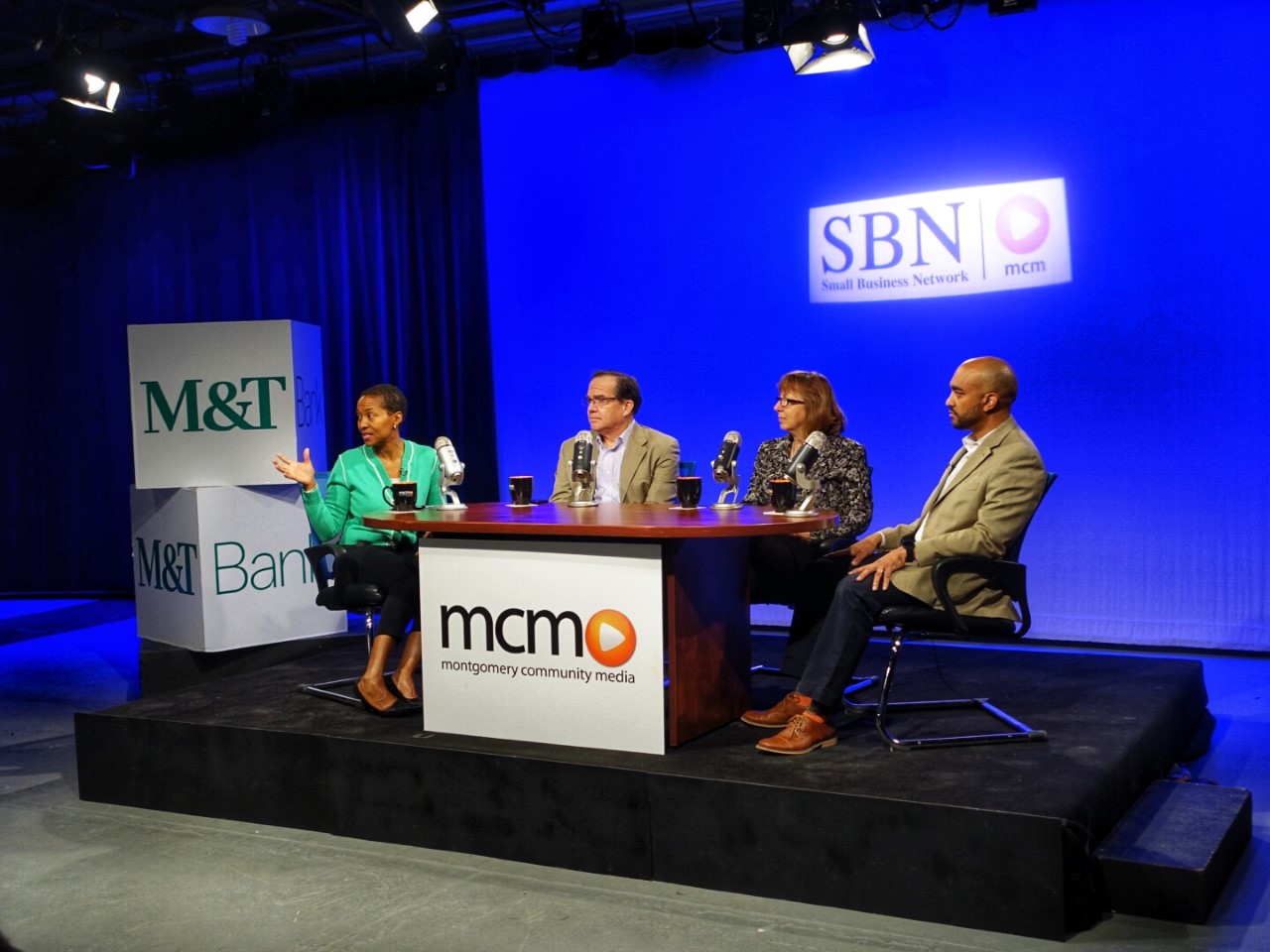 MCM's March Small Business Network Examines Leveraging Podcasts to Generate Revenue
Montgomery Community Media presented the March Small Business Network (SBN) session March 21st from 8 to 9:30 a.m. in Rockville.
The March topic was "Leveraging podcasts to Generate Revenue."
Kelly Leonard moderated a panel of three podcast experts, including Charlie Birney co-founder of Podcast Village, Debbie DeChambeau of Select Business Marketing, and Stephen Hart of Isles Media, LLC.
Watch video of the panel discussion here:
About the Panel
Charlie Birney, Co-Founder of Podcast Village
Birney produces and hosts a wide variety of content for podcast and livestreaming video. He is focused on using content and social media tools to further brand messaging and therefore open doors for businesses and individuals.
Debbie DeChambeau, Business & Marketing Strategist for Select Business Marketing
DeChambeau is a creative podcast designer. Her company focuses on using podcasting for businesses in three ways. First as a sales tool, second as as an internal communication tool and finally as an additional revenue stream for associations. DeChambeau hosts three podcasts including Divorce Exposed, Business in Real Life and The Business of Insurance.
Stephen Hart, Brand Alignment Strategist for Isles Media, LLC
As founder and Brand Alignment Strategist, Hart guides busy professionals through a process to build their own personal brand. His podcast Trailbalzers, FM, spotlights successful black professionals.
About Montgomery Community Media's Small Business Network Series
The series of monthly morning sessions address topics of interest to small business owners in Montgomery County.
Moreover, the series offers the opportunity to invigorate and innovate businesses with insight and information from regional business leaders' presentations and question and answer sessions. Indeed, seminars and networking can enhance the success of local businesses in Montgomery County.
Montgomery Community Media is located at 7548 Standish Place in Rockville, walking distance from the Shady Grove Metro station. Free parking is available.
You can view previous speakers and events, here.
Photos