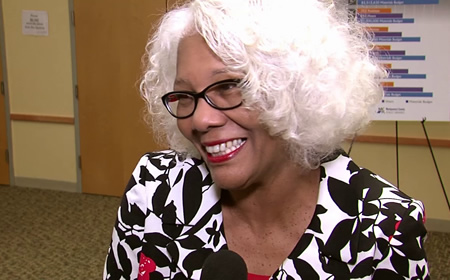 MCPL Director Parker Hamilton Announces Her Retirement, Leggett Says She Will be Missed
Montgomery County Public Libraries Director Parker Hamilton is retiring, according to a Montgomery County statement.
Hamilton has worked for Montgomery County for almost 37 years, and she served as director of the libraries for 12 years.
In a statement, County Executive Ike Leggett described Hamilton as a "remarkable woman," that the county "will miss terribly."
"Parker began her working life in South Carolina as a domestic worker, and ended it running one of the most innovative, progressive public library systems in America," said Leggett. "Prior to earning her BA and MLS from the University of Illinois, Champaign-Urbana, she worked as a telephone operator and provided customer service in a pawn shop. In addition to working in public libraries, she has worked in school, military, and business libraries."
Despite some tough economic times, he said, the county's local libraries thrived under her leadership.
"Our County libraries were able to survive some tough times during the Great Recession when budgets had to be cut to the bone, without sacrificing quality, hours, or customer service," Leggett said. "With Parker at the helm, County libraries received 19 National Association of Counties awards, and innovation awards from Urban Libraries Council, including the 2016 Top Innovation Award."
Hamilton is retiring to move back to Alabama this summer.