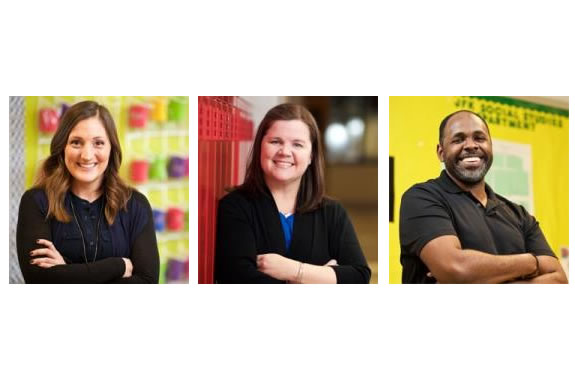 MCPS Teacher of the Year to be Announced at Champions for Children Event (PHOTO)
UPDATED Three Montgomery County Public Schools (MCPS) teachers have been named finalists for the 2016–2017 Teacher of the Year award. The winner will be revealed at the Annual Champions for Children Awards celebration on May 3rd at Wheaton High School.
MCPS announced the finalists in a news release and the honorees are:
Andrea Segovia, is a third grade teacher and team leader at Ashburton Elementary School in Bethesda. Segovia works closely with special educators in the Learning and Academic Disabilities program. School officials said that Segovia students are engaged and take risks because of her dedication to them as individual learners. She was named an Early Career Leadership Fellow by the National Education Association and the Consortium for Educational Change. Segovia has also helped Ashburton transition to Google's Classroom platform.
Kimberly Skufca, is a technology education teacher at Shady Grove Middle School in Gaithersburg. She is described as a motivational and reflective educator with strong content knowledge and problem solving skills. MCPS Officials say Skufca has worked to enroll more girls in courses like Introduction to Engineering and Computer-Aided Drafting and Design and ensured their success. According to officials, 61 students who have taken Skufca's introductory engineering classes over the past two-years have earned college credit. Skufca also sponsors an after-school STEM club, and officials say she never misses a school play or instrumental music performance.
Michael Williams, is a resource teacher for the social studies department at John F. Kennedy High School in Silver Spring. Williams teaches Advanced Placement (AP) World History, U.S. History, and African American History. Williams co-founded the Montgomery County Minority Scholars Program, a student-driven initiative that focuses on reducing the achievement gap and expanding the number of African American and Latino students who are involved in honors and AP courses. Officials said that the program has helped increase the number of minority students taking honors and AP courses. Williams is also the head coach of the boy's varsity soccer team and sponsor of the Black Student Union.
The Greenblatt Education Fund is also honoring Samir Paul, a computer science teacher at Montgomery Blair High School and Kaila Wiggins, a first grade teacher at Clopper Mill Elementary School, as the 2016 Rising Star Teachers of the Year. This award honors educators who have taught for less than five years and whose creativity and enthusiasm encourages students to stretch themselves and achieve more.
Finalists for the Teacher of the Year Award are selected and interviewed by a panel which includes, members of the Board of Education, MCPS staff, representatives from the Montgomery County Council of PTAs, and a member of the Greenblatt family.
Teachers, MCPS employees, and partners will be honored for their exceptional work as part of the annual Champions for Children Awards Celebration hosted by the Montgomery County Business Roundtable for Education (MCBRE). The MCPS Teacher of the Year will be named during the event on May 3, at Wheaton High School.
Those who will receive the Veteran Teacher Award must have five years or more of teaching experience in Montgomery County and will receive a prize of $1,000. The recipient of the Rising Star Teaching Award receives $500.