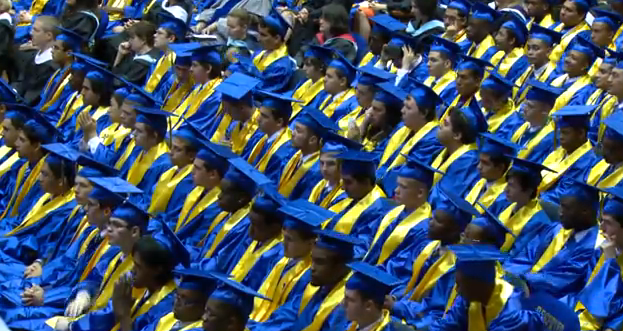 MCPS Graduation Rate Decreases For the Third Year In A Row
The four-year graduation rate for Montgomery County Public School students has decreased for the third year in a row.
Last month, the Maryland State Department of Education released data that shows a 1.2 percent decrease in the graduation rate for The Class of 2018 compared to previous years.
Even though the graduation rate for students decreased overall, some groups experienced increases. In a memorandum released by MCPS, the groups that experienced increased graduation rates were Black or African American students, students of two or more races, Limited English Proficient (LEP) students and students receiving Free and Reduced-price Meals Systems services. Groups that experienced decreases were Asian students, Hispanic/Latino students, White students and students receiving special education services.
The report noted, "students who receive a Maryland High School Certificate of Program Completion do not meet federal guidelines for a high school diploma," which has an adverse impact on the overall graduation rate.
The MCPS graduation rate still remains above the national average, which is 84 percent.
The report also notes that more students are graduating within five-years at a rate of 91.4 percent. Last year, the rate was 92 percent. "This increase confirms that our LEP students need additional time to master the English language and to complete the state graduation requirements," according to the report.