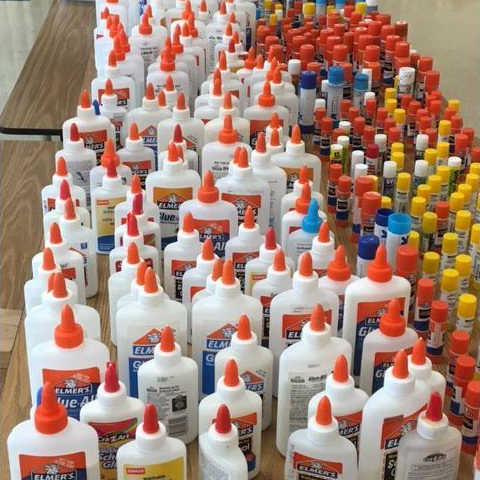 MCPS Kicks Off School Supply Drive (PHOTOS)
Montgomery County Public Schools kicked off its drive for school supplies today at Wootton High School. Families and representatives from nonprofits had the opportunity to pickup supplies at the annual drive.
According to the MCPS website, supplies were donated by students and staff from 81 MCPS schools and several offices. Superintendent Jack Smith, School Board Member Judith Docca, and Montgomery County Councilmember Sidney attended the event.
Smith said that this year MCPS collected 16,000 pounds of supplies.
I had fun this morning at the Drive for Supplies Celebration. Thank you for donating reusable school supplies! pic.twitter.com/kKE8qnLg8i

— Sidney Katz (@MC_Council_Katz) July 11, 2016
Sprntdnt Dr. Smith: This year they have collected 16,000 pounds of supplies that will benefit hundreds of students. pic.twitter.com/31GXVy2vgx

— Moco BOE (@mocoboe) July 11, 2016
Folders & binders & books – oh my! Free school supplies for families & nonprofits at Wootton HS today (7/11) pic.twitter.com/KlT3gBgxEJ

— MCPS (@MCPS) July 11, 2016
VP Dr. Docca kicks off the Drive for Supplies event- this year, they have collected the largest # of supplies yet! pic.twitter.com/9NS9bA97RS

— Moco BOE (@mocoboe) July 11, 2016
We're kicking off this Monday morning at the @mcps Drive for Supplies event at Wootton High School! pic.twitter.com/4KcW1vekdd

— Moco BOE (@mocoboe) July 11, 2016