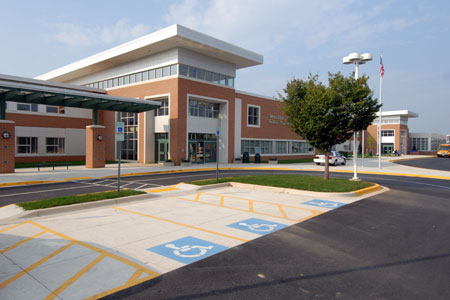 MCPS Releases Statement on School Safety Following Threats from Former Student
After a former Walter Johnson High School student was arrested and charged with making threats to the school,  officials from Montgomery County Public Schools said that they "commend the students who came forward to keep their school and classmates safe."
Detectives from the Montgomery County Police Department said that Luis Cabrera, 18, threatened students at Walter Johnson High School through social media.  According to police, he posted photos holding what appears to be an AR-15 rifle with loaded magazines with the caption "school shooter" on Snapchat within the last month.
Students informed the school's resource officer of the threatening statements allegedly made by Cabrera and the threats were forwarded to the Montgomery County Police Department.
After an investigation, Cabrera was arrested in Towson with the assistance of Baltimore County Police over the weekend. He is currently being held without bond.
"MCPS has invested millions of dollars in school safety and security, however no resource is as valuable as students and staff who are vigilant in their commitment to safety," said Derek Turner, spokesperson for MCPS.
Walter Johnson High School's Principal, Jennifer Baker, also addressed the arrest in a statement issued to the community that reads:
"Good Morning Walter Johnson High School Community Members,
"This letter is to inform our community of an incident and how it has been addressed. Last week our security staff and School Resource Officer (SRO) were notified that a former student was posting threats to the school and concerning images of himself on social media posing with weapons.
"Our SRO reported this activity to the Montgomery County Police Department (MCPD) who immediately began an investigation. Late yesterday I was notified that the former student, Luis Cabrera, was arrested by MCPD.
"I commend those that came forward to alert our SRO of their concerns. Because of this decision our SRO was able to work with her colleagues to keep our school and community safe. I will continue to keep the community informed as more information is released."