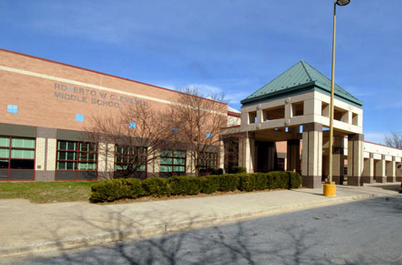 MCPS Schools Recognized for Sustainable Practices, Environmental Curriculum
Maryland Green Schools Awards were recently presented to Redland, Roberto Clemente and Rosa Parks middle schools.
This award signifies a commitment to education practices that work to increase environmental awareness for students in prekindergarten through 12th grade. Schools earn this award by integrating sustainable practices and environmental education curriculum, as well as professional development and community engagement.
By earning the Maryland Green Schools award, these schools have demonstrated a dedication to molding students into caretakers of the earth.
The Green Schools program not only aligns with the Chesapeake Bay Watershed Agreement 2014 goals, but it also supports graduation requirements and standards of the Maryland State Department of Education. Eighty-six Montgomery County Public Schools are currently participating in the program.
Fourteen MCPS schools were also recertified under the program. Rocky Hill Middle School, North Chevy Chase and Rock Creek Forest Elementary have been deemed sustainable, as they have continued to participate in the program for 14 years.
Redland, Roberto Clemente and Rosa Parks middle schools will celebrate with an award ceremony during its 10th Annual Maryland Green School Youth Summit at Sandy Point State Park on May 30, hosted by the Maryland Association for Environmental and Outdoor Education.