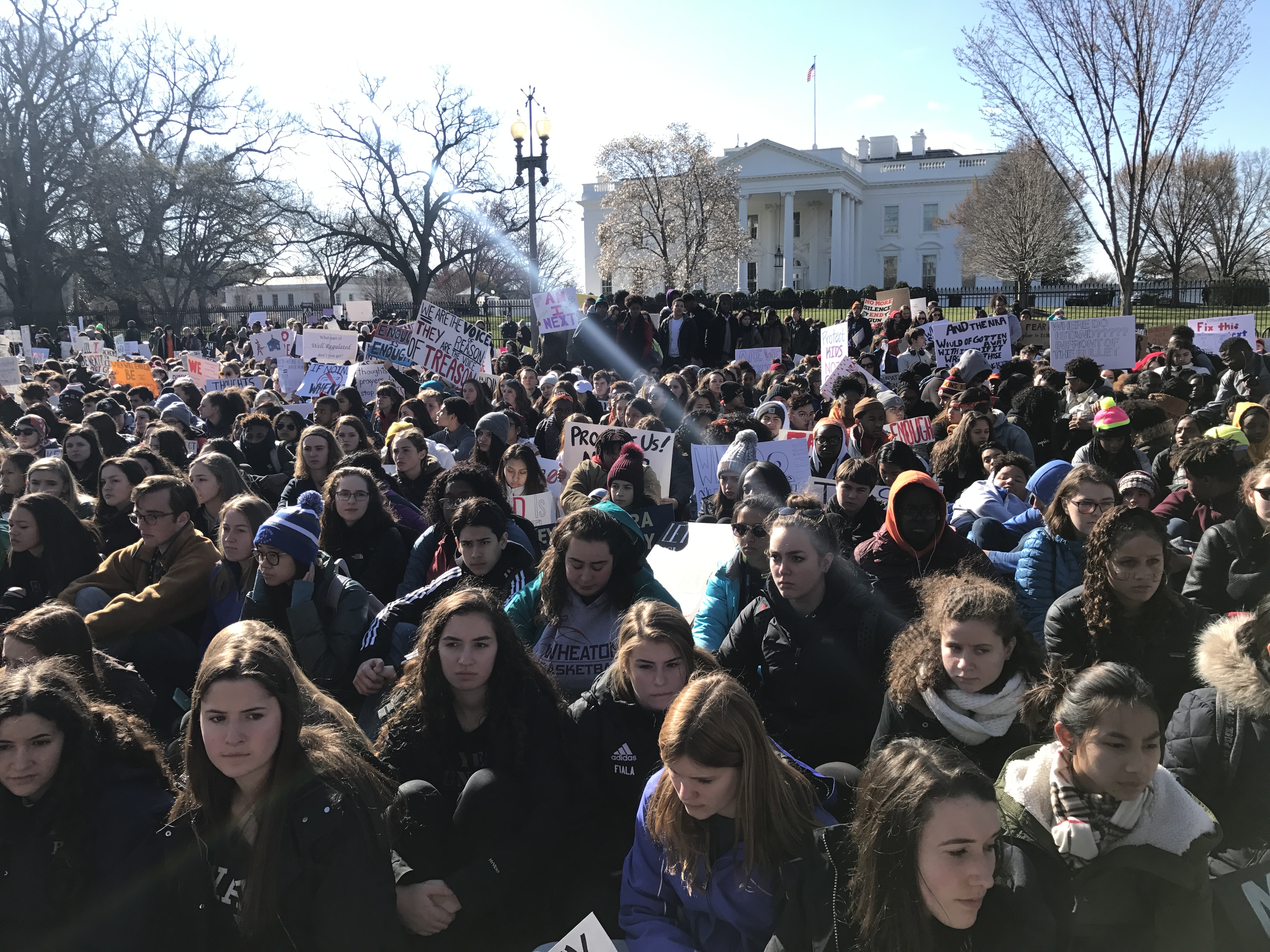 MCPS Students Participate in National Gun Protest
Just one month after the deadly shooting at a high school in Parkland, Florida, thousands of students from Montgomery County Public Schools marched to Washington D.C. to rally for gun law reform.
With their fists up and backs turned to the White House students were silent for 17 minutes. Each minute represented one of the 17 people killed at Stoneman Douglas High School.
"I know so many people who went to the school in Parkland," Ally, a student from Sherwood High School, said.  "It's just so awful that these kids are going through traumatic experiences in school which should be one of the safest places."
Wednesday's rally marked a national day of protest where children, teens and their supporters called on Congress to pass legislation to tighten the gun laws.
"I'm here because I don't feel safe in my school and I think it's every kids' right to feel safe," said Elizabeth, student at Bethesda-Chevy Chase High School.
"I hope they see that we are trying to make our schools safer and I hope that they take some steps to allow us to do that," Adishree, Winston Churchill High School student, said.
After protesting at the White House, students marched to the U.S. Capitol to join U.S. Senators Ben Cardin (D-MD) and Chris Van Hollen (D-MD); U.S. Congressman Jamie Raskin (MD-8);  and other lawmakers in saying "enough is enough" when it comes to gun violence.
"It needs to stop, we need to come to the table together and be the change we want to see," said Bethesda-Chevy Chase High School student, Kwame.
Here's my view at Farragut North Station as students protest for gun safety @mymcmedia pic.twitter.com/7JdZ3ZCr49

— Mitti Hicks (@MittiMegan) March 14, 2018
Happening now: students have turned their backs to the White House and in moments will remain silent to remember the lives lost @mymcmedia pic.twitter.com/FKqyBcLfCL

— Mitti Hicks (@MittiMegan) March 14, 2018
The students are looking at the 17 people who died in Parkland, Florida. @mymcmedia pic.twitter.com/qHMwOHxo8P

— Mitti Hicks (@MittiMegan) March 14, 2018
Just a few more minutes of silence left. They will remain silent until 10:17. One minute for each victim. @mymcmedia pic.twitter.com/m87M3256e3

— Mitti Hicks (@MittiMegan) March 14, 2018
Student member of the @mocoboe is here with @SenSchumer rallying for gun safety. @mymcmedia pic.twitter.com/XbDT1cnl3y

— Mitti Hicks (@MittiMegan) March 14, 2018
Speaking now: @BenCardinforMD @ChrisVanHollen @mymcmedia pic.twitter.com/CzrI8FmVjV

— Mitti Hicks (@MittiMegan) March 14, 2018