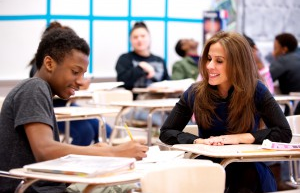 MCPS Teacher Wins Agnes Meyer Award
Monica Abuliak, world languages resource teacher and academic intervention coordinator at James Hubert Blake High School, is this year's recipient of the Agnes Meyer Outstanding Teacher Award.
The award is presented by The Washington Post and has been honoring teaching excellence the past three decades.
According to a press release, Abuliak began her career as a Spanish teacher at Blake. Then became the world languages resource teacher, academic intervention coordinator and college prep literacy teacher. She is also an advocate for minority achievement.
Abuliak has developed a model for at-risk students to receive academic support and peer tutor-mentoring and coordinated summer home visits for Spanish-speaking parents of incoming ninth grade students.
She has also trained other teachers on student-centered instruction, differentiation and literacy strategies.
Abuliak will receive a $3,000 cash award and will be honored during a ceremony on May 19.