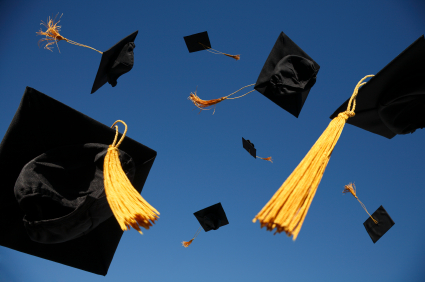 MCPS to Graduate 10,000 Students
More than 10,000 Montgomery County Public Schools (MCPS) students are expected to receive their diplomas during commencement ceremonies that begin May 22 and continue through June 17.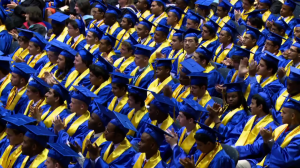 The ceremonies will include a wide array of commencement speakers, including local, state and national political leaders, educators, musicians and others representing a variety of professions and interests.
The first graduation ceremonies are Friday, May 22, for Alternative Programs; Tuesday, May 26, for Rockville; and Wednesday, May 27, for Quince Orchard and Thomas S. Wootton high schools.
Among the national and state political leaders who will speak at MCPS commencement ceremonies: U.S. Senator Dick Durbin, D-Illinois, will address graduates from Bethesda-Chevy Chase High School on May 28 and U.S. Senator Benjamin Cardin, D-Maryland, will speak to graduates of Walt Whitman High School on June 3. Graduates from Richard Montgomery High School will hear from U.S. Representative James Clyburn, D-South Carolina, on June 4, and Jennifer Fay, director of White House Personnel and advisor for Management and Administration, will speak to Wheaton High School graduates on June 8.
Other speakers include:
Tim Kurkjian, a Major League Baseball analyst with ESPN, who will speak to graduates from Quince Orchard High School on May 27;
Timothy Hwang, MCPS graduate and Founder and CEO of Fiscal Note, who will speak to graduates from his alma mater, Thomas S. Wootton High School, on May 27;
Mark William Bryan, lead guitarist and founding member of Hootie and the Blowfish, who will speak to graduates from Seneca Valley High School on May 29;
Dr. Freeman Hrabowski III, president of the University of Maryland, Baltimore County (UMBC), will address graduates from Gaithersburg High School on June 5; and
DeRionne Pollard, president of Montgomery College, will speak to graduates from John F. Kennedy High School on June 8.
Several schools will feature local political and community leaders, including Montgomery County Councilmember Craig Rice (Model Learning Center, June 5) and Elijah Wheeler, disproportionate minority contact reduction coordinator for Montgomery County (Alternative Programs, May 22). Several schools will feature teachers and students as speakers.
Graduations for 22 MCPS high schools will be held at DAR Constitution Hall (DAR), in Washington, D.C. These ceremonies will be streamed live on the DAR Constitution Hall's website. Ceremonies will also be held at Mount St. Mary's University in Emmitsburg, MD., the F. Scott Fitzgerald Theatre in Rockville, and at individual school or program locations.
List of graduation dates times locations and speakers can be found here.