MCPS to Increase Technology in the Classroom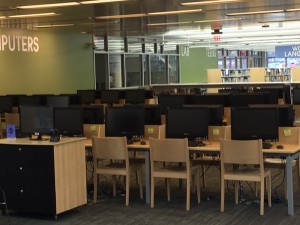 Montgomery County Public Schools (MCPS) is beginning a multi-year effort to provide all students with access to mobile computers and a cloud-based learning platform that will enhance creativity and collaboration in the classroom.
Superintendent of Schools Joshua P. Starr and MCPS staff briefed the Montgomery County Board of Education at its July 15th meeting on the technology plan, which includes the deployment of 40,000 laptops and tablets in all schools. Students in Grades 3, 5, and 6, as well as those in high school social studies classes, will begin using the technology in the classroom this coming school year. The initiative will expand in the following years.
"Our community has been asking MCPS to make more technology available in the classroom, and I am excited to begin ramping up our efforts to provide students with 21st century learning spaces," Dr. Starr said. "This technology initiative will enhance teaching and learning and provide our educators with the tools they need to engage students and individualize instruction to meet their needs."
Funding to purchase the devices is included in the Fiscal Year (FY) 2015 Operating Budget and the six-year Capital Improvements Program (CIP), both of which were approved by the Montgomery County Council in May. Additional funding will be provided through the Federal Education Rate (E-Rate) program, which provides money to help schools increase access to the Internet and technology.
As the plan is rolled out, students in Grades 3 through 12 will primarily use Chromebook laptops, while students in kindergarten through Grade 2 will use Android-based tablets. The initiative will use Google Apps for Education as the secure, cloud-based platform that will provide students and teachers with a wide array of tools and web-based communication and collaboration applications.
MCPS staff and students will be assigned secure accounts that will be monitored and can be used only for educational purposes. MCPS is working with Google to create a closed, secure environment that will fully comply with MCPS privacy standards and federal regulations, including the Family Educational Rights and Privacy Act (FERPA) and the Children's Online Privacy Protection Act (COPPA).
For the coming school year, the devices will first be provided to students in 67 schools that are part of the district's Technology Modernization—or Tech Mod—program in the capital budget. The remaining schools will receive the devices throughout the year. During the 2014–2015 school year, 30,000 devices will be provided to elementary and middle schools for use by students in Grades 3, 5, and 6, and 10,000 devices will be provided to high schools for use in social studies classes.
The devices are being purchased through two consortia that allow school districts to take advantage of lower purchase prices for technology. The Maryland Educational Enterprise Consortium (MEEC) and the National Joint Powers Alliance (NJPA) have competitively bid contracts with a variety of technology vendors. MCPS invited 20 of those vendors to bid on this initiative. After receiving bids from six of the vendors, MCPS is recommending CDW Government LLC, which would provide the devices for $15.03 million.
The goal of the district's initiative is to provide "anywhere, anytime access" to tools and resources for students and staff. The initiative supports MCPS Curriculum 2.0, the district's new curriculum that focuses on building student knowledge and developing critical thinking and academic success skills. Curriculum 2.0 is a fully digital curriculum that is aligned with the Common Core State Standards.
Nine MCPS schools piloted the use of mobile technology and cloud-based learning platforms during the 2013–2014 school year. The technology was used to enhance teaching and learning in a variety of ways,  such as the following:
·  "Screencasting" lessons for students to view at home as review or extra practice and to empower parents to assist their students with schoolwork;
·  Creating assignments in which students use videos, podcasts, and interactive websites to collect information and then create a presentation to share their research;
·  Allowing teachers to provide real-time assistance to students who are doing homework and allowing parents better access to their child's schoolwork and assignments; and
·  Providing teachers with a convenient space to collaborate, exchange ideas, and share lesson plans.
The initiative will require ongoing professional development for teachers to help them learn the best ways to integrate the technology into their planning for and delivery of classroom instruction. For the schools that will receive the technology first, those professional learning opportunities are taking place over the summer, and teachers will continue to receive coaching during the school year.
"This initiative represents the next big step in our effort to infuse more technology in the classroom," Dr. Starr said. "We know that this technology, in the hands of a well-trained, highly motivated teacher, can make a huge difference in how we are preparing our students to thrive in their future."
You can find out more here.