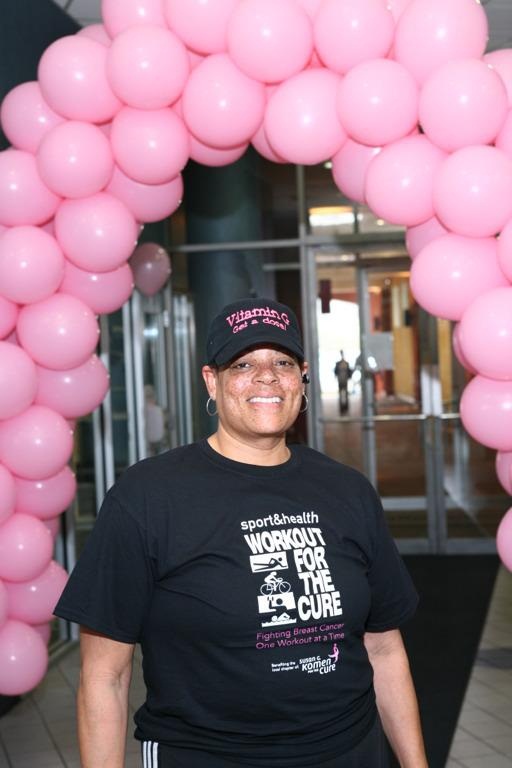 Meet Emily Jackson (Photos)
Battling obesity is no joke! As a single mom, the battle is on.  I was a swimmer and played basketball, volleyball and tennis through Cabin John Jr. High and Winston Churchill High School in the late 1970's. I always had a propensity towards being chubby or "husky," but sports and athletics were my life. I managed to stay fit and trim during my teens and early twenties. Then, life got in the way. Once I began my career, working out became not so much of a priority.
My eating habits stayed the same, but I was not as physically active. I began to gain weight through my early thirties. As a result of my athletic pursuits and practices during my teens, I managed to stay somewhat healthy for a while.  At 37, I planned a pregnancy, and I was blessed with a beautiful daughter, Sydney Alexine. My comment to my OBGYN was, "What do you mean the baby doesn't weigh 70 lbs?!" Shortly after my daughter was born, I began to witness my immediate family members challenging diseases. We had survivor success of my mother's breast cancer diagnosis at 50.  She is now a 26 year breast cancer survivor, and the past Chairman of the Board of the Susan G. Komen for the Cures. Although her mother, my biological grandmother, was not so fortunate; she was only 29 years old when she lost her battle to breast cancer in 1940. Since then, my brother died of colon cancer in 2004. He was only 43 years old. Then my sister, his twin, was diagnosed and treated for breast cancer. She was then diagnosed with fallopian tube cancer in 2006 and again in August 2012 with peritoneal cancer. My father succumbed to prostate cancer and died in February 2012. My younger sister, too, was diagnosed with ovarian cancer this past September 2012 and is currently undergoing chemotherapy.
In 2008, I was diagnosed with Type II Diabetes. I suffered with insulin dependency, heart disease, hypertension and depression – I was dying! Two years ago, I made the best decision to have bariatric surgery (open-gastric bypass) at Johns Hopkins University, Bayview Surgical Center. I did it because again, my family has been riddled with diabetes, cancer and heart disease, and I have decided to take some preventive measures against cancer, as well as treating my hypertension, heart disease and diabetes. I joined Rio Sport&Health Club to continue my progress with health and fitness. I was able to change my fitness regime and work as a membership consultant. As of January 1, 2013, I have begun a rigorous personal training program which includes, TRX Suspension Training, Pilates Reformer Training, Cycle Spinning and TNT (Teaching and Training) programs at Sport and Health!
I am also producing a documentary film about my battle with obesity and its co-morbidities. Its working title is "The Obesity Battle: No Where to Hide." I am looking to partner with a fiscal partner (not-for-profit organization). I would like to partner with an organization where the mission is to recognize the important role of mothers in the nurture and care of their children and the family. With the obesity epidemic in the U.S., I feel a responsibility to "put my oxygen mask on first" by educating and heightening the awareness about bariatric surgery solutions to treat adult obesity for individuals like myself.
The goal of the film is to address prevention, intervention and treatment. What makes my film so compelling and powerful, is that I straddle two very different realities.  Although I am an educated black woman who had access to healthcare and privilege, I made choices that created a collision course with an unexpected world of becoming a person on welfare dealing with the death of a sibling, addiction, job loss, foreclosure, business bankruptcy and obesity's co-morbidities. My target audience naturally is the African American female audience because of the prevalence of obesity in urban cities. However, I believe the film will capture a wider audience because obesity is a global issue.
I have lost 108 pounds, and my work with my personal trainer, Dante McEast of Sport&Health, has been a tremendous support. I wanted to share my story to help others and to show the public that there is a light at the end of the tunnel. You just have to work hard and remain dedicated.