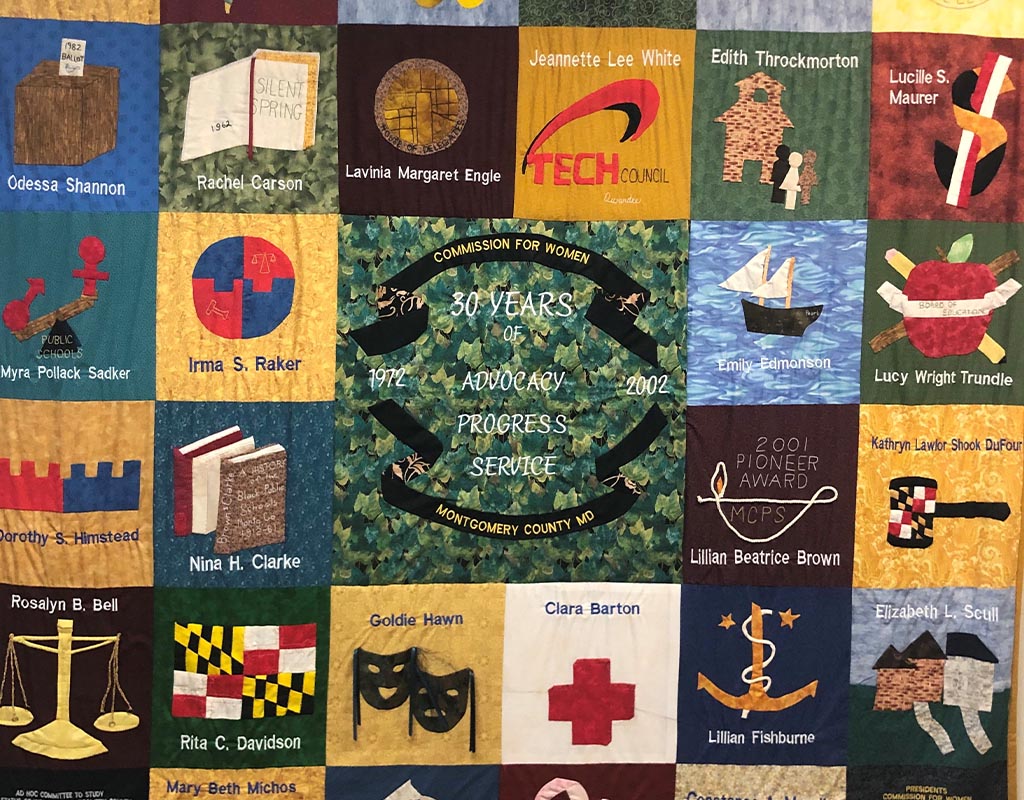 Meet the Artist Behind Montgomery County's Women's History Quilt Project
Montgomery County resident and fiber artist, Anne Sanderoff-Walker helped to design and create two "Women's History" quilts honoring 40 women for the Montgomery County Women's History Project.
The first quilt was completed in 2002, honoring 30 women of historical significance in Montgomery County. The second quilt, made in 2012, honors ten women in the county.
The quilts are on permanent display at the Commission for Women's office in Rockville, MD.
Sanderoff-Walker is not just a fiber artist; she has served in quite a few leadership positions throughout her career. She is the former president of the Montgomery County Commission for Women and the only president of that commission to serve two consecutive terms. She is also the former president of the Woman Business Owners of Montgomery County.
The Women's History Quilt Project was done in collaboration with the Executive Director of Maryland's Commission for Women, Judith Vaughan-Prather. Sanderoff-Walker says that Vaughan-Prather saw a need for women to be celebrated and uplifted. She also saw a need for traditional women skills such as sewing and quilting to be showcased as well.
"She [Vaughan-Prather] wanted to see it elevated and to use that quilting technique to commemorate the 30th Anniversary of the Commission for Women…and we said why don't we do thirty women of significance in the history of Montgomery County. That was the seed of it," said Sanderoff-Walker. 
According to Sanderoff-Walker the first quilt took about four to five months to complete. The process behind the quilt was long, but also a learning experience for the artist. "The designing of each individual square for the quilt was a gift to me in that I….was learning about the women," said Sanderoff-Walker.
A traditional sewing machine was one of the tools used to make the quilts; however, the techniques of hand-stitching and patching are what really helped the quilts come together. Sanderoff-Walker says her seamstress skills were passed down to her from her family.
"I've been sewing since I was very young…I come from a family of sewers. Women didn't come from Europe without knowing how to sew," she said. "My grandmother who I've never met…and all of her sisters were wonderful skilled seamstresses," said Sanderoff-Walker.
Sanderoff-Walker has now taken interest in the art of weaving and uses a looming tool to create more intricate pieces of artwork. She is a member of the  Torpedo Factory Art Center and the Potomac Fiber Arts Gallery in Virginia. Some of her pieces of work are showcased at the aforementioned facilities.
Anne Sanderoff-Walker shares leadership advice for young girls:
"Study other leaders, particularly women. They lead differently," Sanderoff-Walker said. "Don't be afraid to jump in….every experience is a learning experience so even if you're not successful the first time you try a leadership position, just try again."