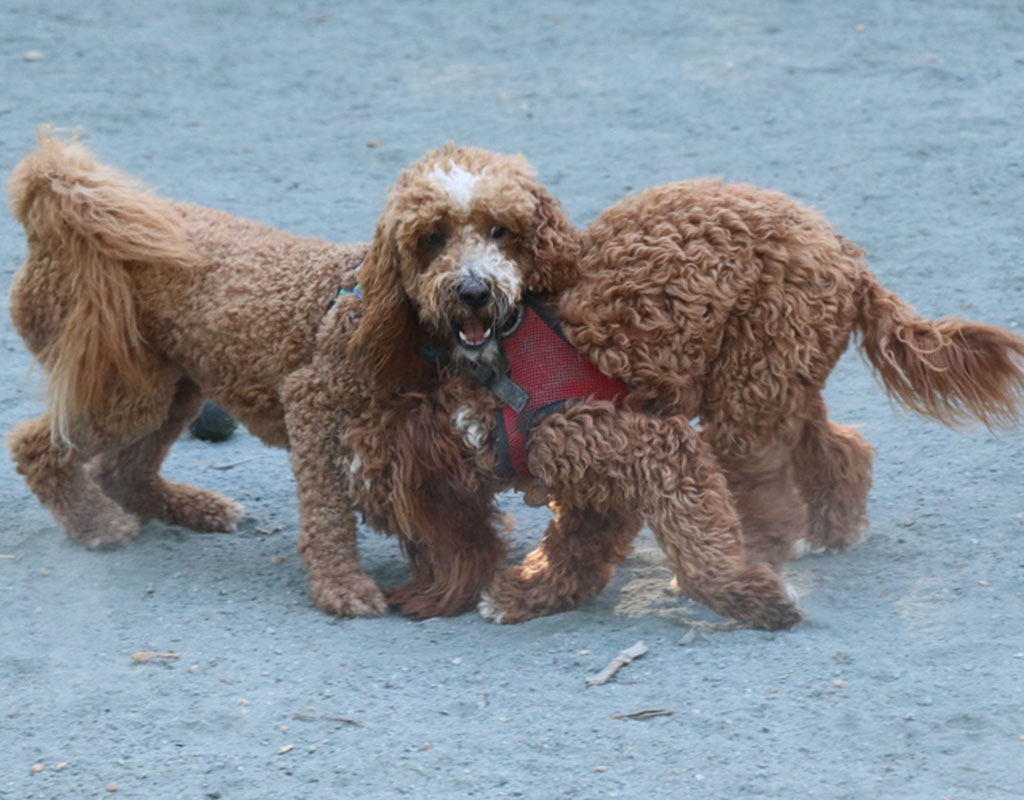 Meet the Residents Trying to Save Chevy Chase Village's Dog Park
Some Chevy Chase Village neighbors have been complaining about all of the bark in Brookville Road Park these days.
Prior to being a dog park, the area was owned by the State of Maryland and Chevy Chase Village and was a grassy, muddy area where owners would bring their dogs to socialize. However, the drainage in the area was poor so the Village Board spent $134,000 to convert the space into a fenced dog park.
Last October, the new dog play area opened in Brookville Road Park, which some people in the surrounding neighborhood have not been happy about.
Dogs enjoying their humans… 🐕🐶 pic.twitter.com/4tSIndDho3

— Deirdre Byrne (@DeirdreByrneMCM) August 30, 2019
The Chevy Chase Village Board of Managers have held two public hearings about the dog park, where some residents have complained about the park's noise, traffic, and aggressive dogs. Although the board agreed to change the hours of the dog park, some neighbors still want it gone.
But there are those in the community who see the dog park as an asset to the neighborhood and are working to "save" the play area. Patrick Murphy, a Chevy Chase resident, started a Facebook page called "Save Chevy Chase Dog Park." After The Washington Post published a story about the dog park drama on Wednesday, the page has gained hundreds of new followers.
And dogs fetching… 🐕🐶 pic.twitter.com/JUcIVAEd7b

— Deirdre Byrne (@DeirdreByrneMCM) August 30, 2019
Julia Small, a Chevy Chase Section 5 resident, is one of the community members advocating for the park to stay. Small said the barking at the park is minimal and dog owners have worked to self-police the park, making sure there aren't any overly aggressive or noisy dogs.
Bob Kayton, a longtime resident of Chevy Chase Village, lives two doors down from the park and said he doesn't hear barking. He believes only a handful of residents are complaining about the park. Otherwise, Kayton described the park as a "remarkable place to meet community."
The board is holding a third hearing about the dog park on Sept. 9 at 7:30 p.m. at Chevy Chase Village Hall, where it will decide the fate of the dog park.
The Save Chevy Chase Dog Park advocates plan to attend the hearing and see an opportunity for compromise, but they plan to fight to maintain the park.
Previous Post:
Dog Park Drama: Chevy Chase Village Tries to Settle Canine Conundrum