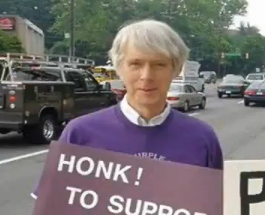 Memorial Dedication for Harry Sanders (Video)
When Harry Sanders passed away in 2010, his neighbors on Noyes Lane in Silver Spring wanted to do something to remember this remarkable individual. Working with his family and the Montgomery Parks Foundation, a memorial was created in Woodside Park which will be dedicated on Thursday, March 28, at 10 a.m. Harry Sanders devoted a great portion of his life to making sure that the Purple Line, a proposed 16-mile light rail line extending from Bethesda in Montgomery County to New Carrollton in Prince George's County, becomes a reality.
Many in Montgomery County will remember his tireless efforts and cheerful and tenacious activism on behalf of the future transit. Harry's vision for a vibrant, modern and sustainable Purple Line is ever closer to reality as the Purple Line just cleared a major hurdle on Friday when an important transportation bill was approved in the Maryland House of Delegates. This bill represents a significant milestone in providing the state matching funds needed for the federal application process. Harry's legacy is indeed alive in Annapolis as members from a large transit coalition gathered to give testimony last week in support of the bill.
"Harry remains an inspiration to us all as we work to realize his prescient vision for the County's future," says Purple Line NOW! President, Ralph Bennett. Many of the donations for the memorial plaque and surrounding redbud tree came from neighbors of the Sanders' family who reside on Noyes Lane in the Woodside community. Neighbor and friend Liz Gayaldo noted, "It was something we wanted to do for Harry, a gift in honor and with affection for him."
Greg Sanders, currently an officer on the Purple Line NOW! Board of Directors and the son of Harry and Barbara Sanders, reacted to the gift, "This wonderful tree and plaque were gifts from my father's neighbors who valued his work to form connections within the community. That same impulse motivated his work for the Purple Line. Transit is not mere concrete and steel – it is connecting people with jobs, family and friends, and education. Harry loved trains, but he loved people even more. Connecting all our people is worth paying for."
The community is invited to join members and supporters of Purple Line NOW!, Action Committee for Transit, residents of the Woodside community and Montgomery County Councilmembers at a gathering at the Woodside Urban Park on the corner of Spring Street and Georgia Avenues at 10 a.m. on Thursday, March 28 to commemorate and keep alive the spirit and vision of our valued friend and mentor for the next generation of transit.