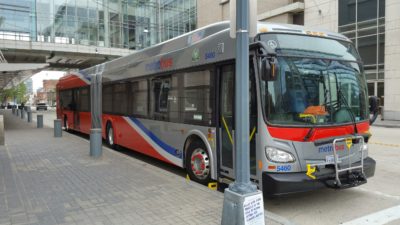 Metro Adds Five New 60-foot Accordion Style Buses
Metro put in service five new 60-foot accordion style articulated buses today along the 16th Street corridor.
The new buses are part of a larger order of 21 articulated buses and 274 standard buses that will be put in service over the next year, replacing vehicles that are at the end of their 12-year lifespan.
Metro first began running longer articulated buses along 16th Street NW in 2012 to provide additional capacity for growing ridership.
The 21 new articulated buses will run on three of Metro's busy north-south corridors: 16th Street (S-Line), 14thStreet (50-Line), and Georgia Avenue (70-Line).  Combined, these routes carry more than 50,000 passengers on a typical weekday.