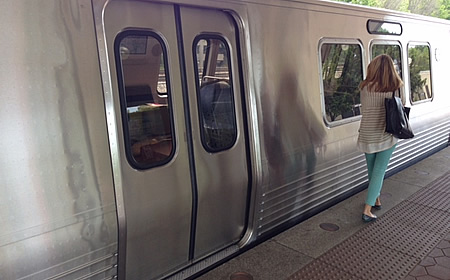 Metro Partners with MillerCoors to Offer Free Rides on New Year's Eve (PHOTO)
In an effort to help prevent drunk driving, Metro announced its partnership with MillerCoors and will provide free rides on all Metrorail and Metrobus routes beginning on Friday Jan. 1 at midnight until 3 a.m.
"I am pleased to announce this exciting new partnership with Miller Lite to support safe transportation for our customers on New Year's Eve," Metro General Manager and CEO Paul Wiedefeld said. "We hope this promotion will encourage those celebrating across the region to leave the driving to us this holiday," he said.
According to a news release, this is the first time MillerCoors is bringing its flagship Miller Lite Free Rides program to Washington, D.C.
"Our partnership with Metro is part of MillerCoors overall commitment to help prevent drunk driving by bringing alcohol responsibility programs to more markets," Responsibility Commerce Manager for MillerCoors Diane Wagner said. "Working together, Miller Lite, Metro and Premium Distributors will help ensure people have a great time this New Year's Eve and get home safely from their celebrations," she said.
Free Rides will be provided on all Metrorail lines and Metrobus routes. Metrorail riders should still use their SmarTrip card or fare card to enter and exit, but will not be charged for the trip. Metrobus riders can just show their SmarTrip card to board free of charge.
You can view specific schedule and route information by visiting Metro website.