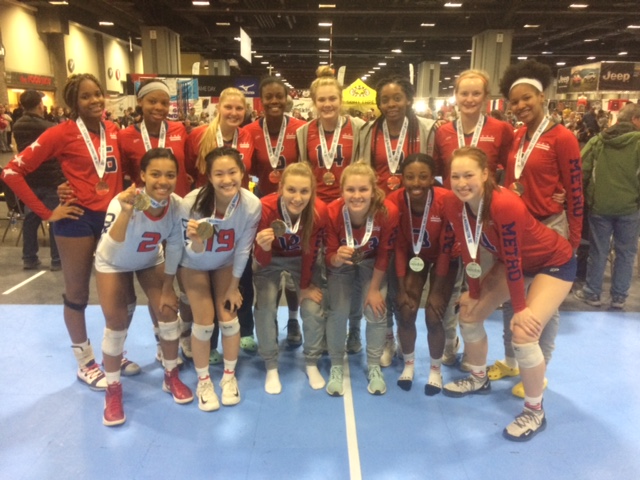 Metro Teams Dominate at Capitol Hill Volleyball Classic
Four teams from the Metro Volleyball Club of DC, featuring players from Montgomery County, were among the big winners at the Mizuno Capitol Hill Volleyball Classic at the Walter E. Washington Convention Center in Washington DC.
The 18, 17, 16 and 15 travel teams from MVC all won their respective divisions. Northwest High School's Jenaisya Moore (pictured second from the far left in the back row) led Metro's 18 travel team to a finals victory over TeamD 18-Red from Detroit. Moore's team did not lose a single set in nine matches. Moore was a 4-time All-Met leading the Jaguars to four straight 4A state championships. She will play at Ohio State next year.
The Metro 17 travel team, featuring three players from Montgomery County – Riley Parchment, Laila Rogers and Maya Scott – won a thrilling, high level 3-set match against the Palm Beach Juniors.
Michelle Bennett from Montgomery County helped lead the Metro 16 travel team to victory in the 16 open division. Bennett's sister, Rachael, played on the 18 travel team with fellow Northwest player Moore.
Another Northwest player, Isabela Neumann, helped lead the Metro 15 travel team to victory in their division.
The tournament, in its 13th year, showcased close to 12,000 girls ages 10-18 competing in 3,687 matches on 122 regulation volleyball courts with 225 referees. This year, 968 volleyball teams from around the country participated.