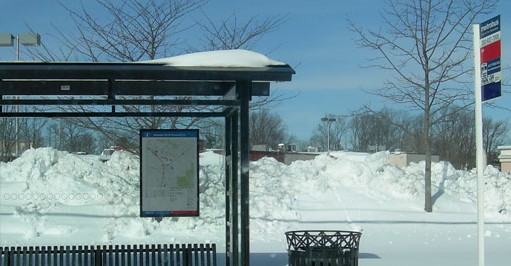 Metro to Suspend Service Saturday and Sunday During Blizzard
Metro General Manager Paul Wiedefeld announced on Thursday that Metro will suspend service Saturday and Sunday due to the emergency weather conditions expected in the metropolitan area.
The agency's Emergency Command Center (ECC) will be activated Friday at 4 p.m., providing around the clock coverage during the storm. The ECC will coordinate all Metro response efforts during the blizzard. This includes protecting rail and bus equipment, responding to weather-related problems, and coordinating the clearfning of station platforms, parking lots, garages, bus loops, rail yards and storage facilities.
"This is not a storm that anyone should take lightly, and I would urge all residents to plan to get to a safe place before the storm arrives Friday afternoon," Wiedefeld said. "The actions we are taking today are all in the interest of our customers' and employees' safety, and will help us return to service once the storm passes and the snow is cleared," he said.
You can view the adjusted service schedule below.
Metrorail
On Friday, Metrorail will open at 5 a.m. with service both above and below ground until 11 p.m.
At 11 p.m. Friday, the Metrorail system will close and will remain closed all day Saturday and Sunday.
Metro will protect hundreds of railcars by storing them in the tunnels during the storm.
Information regarding the restoration of service will be provided via broadcast media outlets, social media, Metro's website (wmata.com), and the MetroAlerts system (email and text messages).
Metrobus
Bus service will begin the day Friday on a "severe" snow weather plan. Under the severe plan, buses operate only on major corridors. For details on which routes operate under the severe plan, visit wmata.com/snow/severe.
Operating on a "severe" service plan helps to ensure that customers and employees are not stranded once the storm begins.
Bus service will be suspended systemwide at 5 p.m. Friday as the storm moves into the region. The last buses will depart their origin points at 5 p.m. and operate to the end of the route before ending service.
Bus service will remain suspended on Saturday and Sunday.
MetroAccess
MetroAccess paratransit service for customers with disabilities will be suspended Friday after 6 p.m.
To prevent customers from being stranded, MetroAccess will not begin any new outbound trips after 1 p.m.
MetroAccess service will remain suspended on Saturday and Sunday.
Metro to suspend service during blizzard: https://t.co/miOnLQFg57 #wmata

— @wmata (@wmata) January 21, 2016