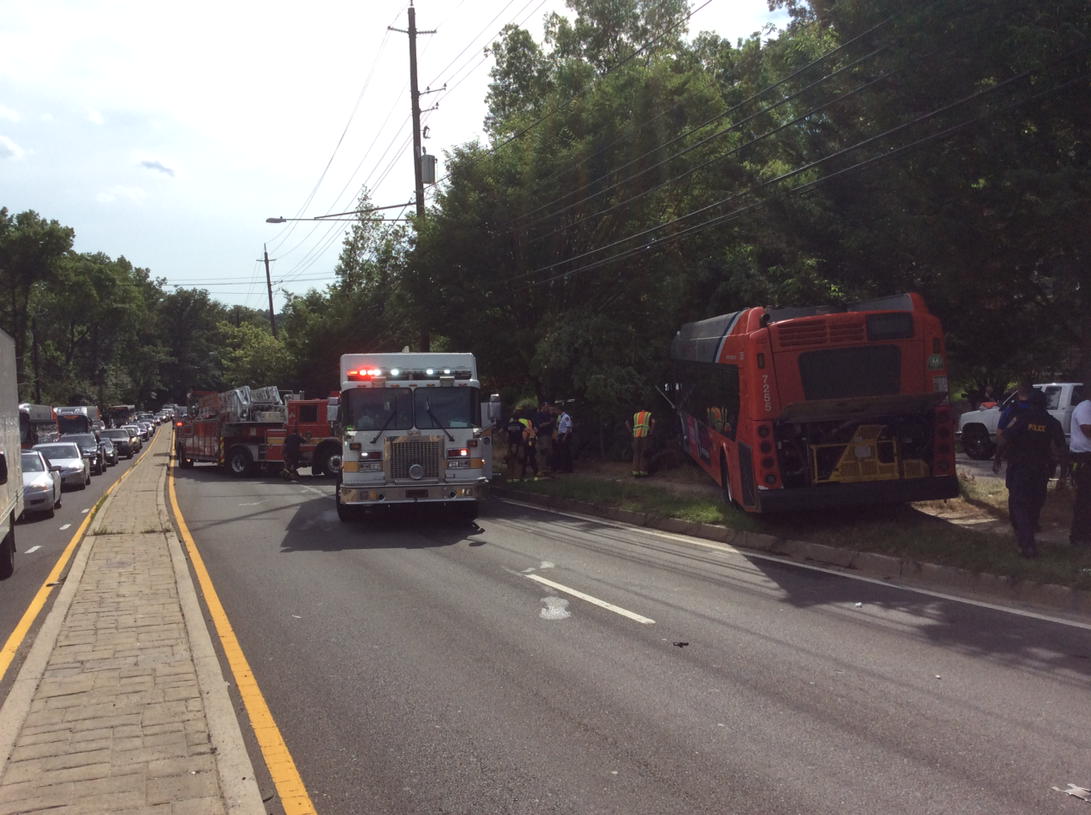 Metrobus Crashes into Tree Along East-West Highway in Silver Spring
A Metrobus crashed into a tree on East-West Highway near Grubb Road in Silver Spring late Monday afternoon, according to Montgomery County fire and rescue spokesperson Pete Piringer.
According to Piringer, one person was trapped and had to be rescued. He said paramedics were treating over a dozen patients at the scene.
Piringer said the crash was classified as a mass casualty incident (MCI) because of the number of patients.
A portion of East-West Highway near Grubb Road was closed because of the collision during rush hour and traffic was backed up.
Update (4p) PIC; Metro bus vs. Pick-up truck & tree: 15 passengers on Metro bus, EMS total 12 transports pic.twitter.com/HhFQzFkERw

— Pete Piringer (@mcfrsPIO) June 6, 2016
Traffic Advisory WB East West Hwy CLOSED near Grubb Rd, EB Open, all patients have been transported pic.twitter.com/r8hHb504jk

— Pete Piringer (@mcfrsPIO) June 6, 2016
Update – East WestHwy & Grubb Rd, SS, MCFRS Medical Ambulance Bus & Medical Support Unit responding, MCI declared due to # of patients

— Pete Piringer (@mcfrsPIO) June 6, 2016
Update – East West Hwy, Metro Bus into tree, 1 person trapped, EMS evaluating >15 Pri3 NLT injuries, MCI declared due to # of patients

— Pete Piringer (@mcfrsPIO) June 6, 2016
Update – East West Hwy near Grubb Rd, bus into a tree, EMS Evauluating multiple patients

— Pete Piringer (@mcfrsPIO) June 6, 2016
PIC – Eat West Hwy & Grubb Rd, collision, involves bus, multiple injuries, road closed

— Pete Piringer (@mcfrsPIO) June 6, 2016