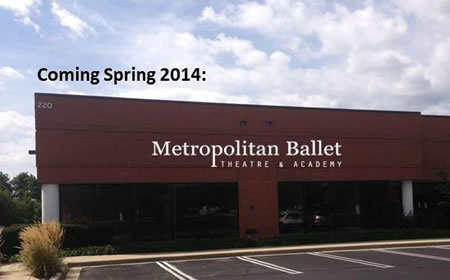 Metropolitan Ballet Theatre Awarded County CIP Grant
The Metropolitan Ballet Theatre (MBT) has been granted $100,850 through Montgomery County's Capital Improvement Project (CIP) Program for the Arts & Humanities. This grant, one of 12 grants to arts & humanities organizations, was awarded through a competitive application managed by the Arts & Humanities Council of Montgomery County. The funds were recommended by County Executive Ike Leggett and appropriated by the County Council. The program requires matching funds from other sources and will support MBT's spring relocation. MBT has finalized plans to move the 25-year-old nonprofit arts education organization to Gaithersburg this spring, before MBT's current home will be demolished to make way for a new property development.
"Montgomery County's quality of life is enriched and enhanced by its vibrant cultural arts community and particularly a group such as the Metropolitan Ballet Theatre (MBT) that gives so much back to the community," said Montgomery County Executive Isiah Leggett. "I'm delighted that the supplemental funding I proposed for MBT was approved by the County Council to assist this group in its relocation to a new home. Through its work with students and its civic responsibility and outreach activities, MBT is making our County a better and richer place to live."
MBT's new studio facility will be located at 220 Perry Parkway in Gaithersburg, and will boast more than 7700 square feet of space, with three large class studios, a noteworthy expansion from MBT's existing 2400 square feet and two studios. Students and faculty will enjoy state-of-the-art sprung dance flooring and audio-visual technology, high ceilings, on-site costuming for the extensive collection of costumes for its professional performances, an in-studio performance theater, space for students to study, and more.
"MBT is looking forward to this much-needed expansion and relocation. It was forced upon us, but we certainly are making the best of it," says Erica Hwang, President of MBT's board of directors. "Our students, faculty, and the community will see significant new benefits from this change. We sincerely thank County Executive Leggett and the County Council for recognizing the importance of arts education and outreach in the community and supporting our relocation efforts."
Last summer, MBT also announced toolbox grant support from the City of Gaithersburg. "MBT's total capital investment in this project will exceed $250,000. Receiving grant support from the County and the City of Gaithersburg for a portion of that investment is meaningful and very much appreciated," said Paula Ross, MBT's Director of Development & Marketing. MBT worked closely with Tom Lonergan, Gaithersburg Director of Economic Development, to assess the potential support and partnership opportunities before making a decision on a new location. "The city of Gaithersburg is very pleased that such a prestigious arts organization as MBT is relocating and expanding here. We are looking forward to working with them to further enhance the City's cultural landscape," says Lonergan.