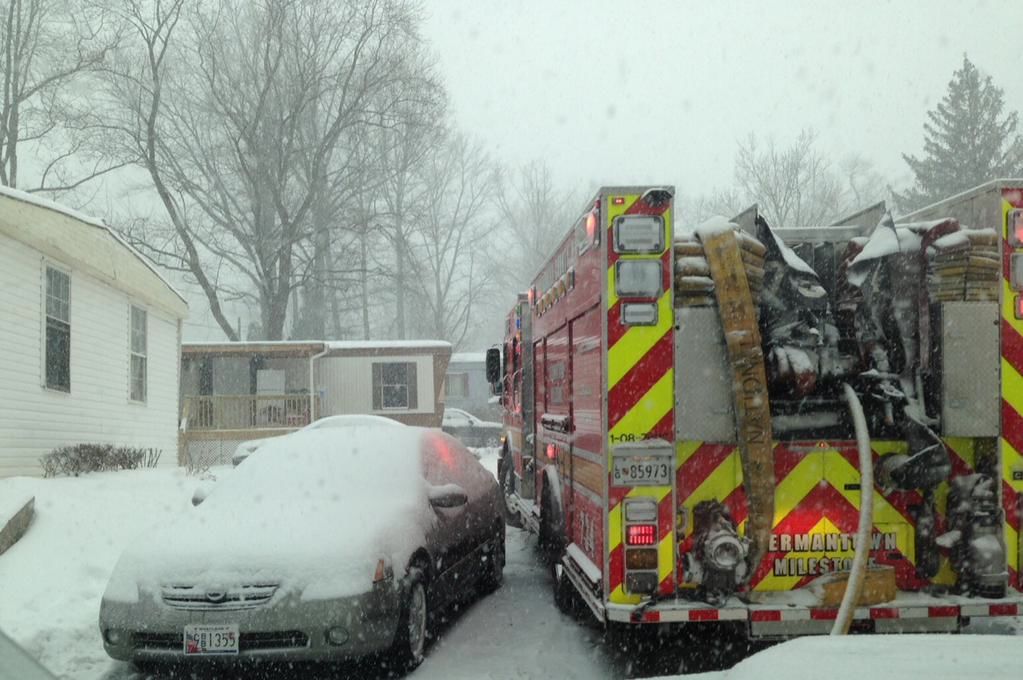 Middlebrook Trailer Park Fire (PHOTOS)
A fire at the Middlebrook Trailer Park in Germantown has displaced four adults and two children and caused an estimated $75,000 in damage, according to a Montgomery County fire official.
On his Twitter account, Fire and Rescue Services Spokesperson Pete Piringer said the fire involved the water heater and extended to an area under the trailer.
Piringer said two firefighters sustained orthopedic injuries at the scene.
The Red Cross is assisting the displaced residents with housing, according to Piringer.
More…Middlebrook TP; Damage, $75K, Red Cross assisting 4 adults, 2 kids displaced; 2 FF injury NLT (orthopedic) pic.twitter.com/EVK8qj1pHg

— Pete Piringer (@mcfrsPIO) February 21, 2015
U\D Middlebrook Trailer Pk, double wide trailer; Cause, electrical heating tape on frozen pipes ignited under floor pic.twitter.com/iPeVgt7OUj — Pete Piringer (@mcfrsPIO) February 21, 2015
U/D- Middlebrook Trailer Park involved water heater, fire extended to area under trailer, FFs still performing overhaul, Red Cross assisting

— Pete Piringer (@mcfrsPIO) February 21, 2015
U/D – Middlebrook Trailer Park, FFs continue to work on hotspots under trailer; 4 adults, 2 kids will be displaced, no injury — Pete Piringer (@mcfrsPIO) February 21, 2015
19515 Frederick Rd, Middlebrook Trailer Park, trailer fire, OS w/ smoke showing

— Pete Piringer (@mcfrsPIO) February 21, 2015