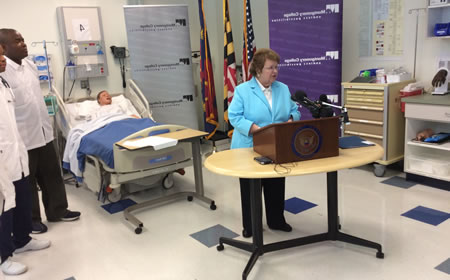 Mikulski Hears From Students On College Tuition, Access, and Books (VIDEO)
During a recent visit to Montgomery College's Takoma Park/Silver Spring campus on Aug.11 th, Sen. Barbara Mikulski discussed college affordability with students, professors and staff.
Mikulski said she wanted to hear from students about college access as part of her Maryland College Affordability Tour.
"That's why I'm here today. Congress is beginning its debate on the higher education bill. How do we make higher education available to the American people … I want to make that the best ideas come from the people. That we know what they need and we do everything we can to show them a government on their side," Mikulski said.
Watch her news conference, below:
She also announced a $1 million grant to Montgomery College to provide support services to first-year students.
"There are students that will need important special services. … That would be a million dollar over a five-year period," she said.
Mikulski visited the College's Nursing Simulation Lab where Adeline Ntam, a fourth-year nursing student, said students learn to adjust and be resourceful. Mikulski asked Ntam what are the main things that can help students get through college.
Ntam said tuition, books, and access to services like childcare for those who are back in school but have children and can not afford to pay for extra help.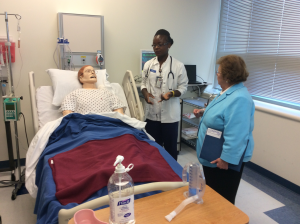 "If our books were a little bit more affordable at the bookstore, it would also help the [school], but if not, we'll go to Amazon and other places," Ntam said.
After speaking with students, Mikulski said there are three main challenges that it needs to be addressed: tuition affordability, a way to have access to books and lab fees, and supporting services depending on people's need.
"Community college is a gateway to the middle class. … That's why I was so pleased to see the nursing program. Today, as I listen to them, I was reminded of this: That the basic help for college affordability is to make sure tuition is affordable. The important program for that is the Pell Grant Program," she said.
However, the Maryland senator criticized Republicans for cutting Pell grants by 30 percent.
"I'm going back to Congress to make sure I get a better budget deal so that our students get a better Pell grant deal," Mikulski said.
Mikulski on tuition. pic.twitter.com/Okor0EcS6r

— Aline Barros (@AlineBarros2) August 11, 2015