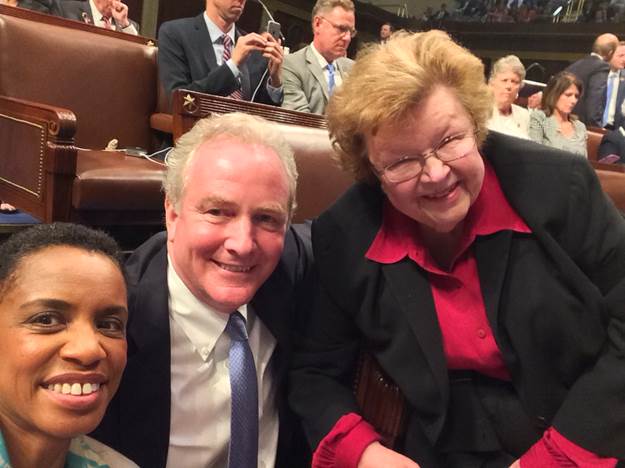 Mikulski Joins Sit-In on House Floor Demanding Vote to Curb Gun Violence
U.S. Senator Barbara Mikulski is joining with House and Senate Democrats for a sit-in on the floor of the U.S. House of Representatives led by Civil Rights Movement leader and Congressman John Lewis.
Members are calling for an up or down vote on legislation to curb gun violence in the wake of the recent mass shooting in Orlando.
Senator Mikulski was joined on the floor of the U.S. House of Representatives by Senator Ben Cardin, and Representatives Steny Hoyer, Elijah Cummings, Chris Van Hollen, C.A. Dutch Ruppersberger, John Sarbanes, Donna Edwards and John Delaney.
Read Senator Mikulski's statement, below:
"Today I joined with House Democrats in calling for 'No break, no vote.' The Democrats want to offer a bill to close the terrorist loophole, so that if you're on the No Fly List, you should not be able to buy a gun.
"The Republican leadership has refused to give them a vote. They've tried every parliamentary maneuver. Now they're doing a sit-in, led by the historic civil rights leader John Lewis. They sat down. And when they sat down, Senate Democrats stood up. I wanted to be alongside them and went over to join the protest. Because in America, we should be able to have our day and our say to protect the people.
"Today we're protesting because the House of Representatives can't even get a vote or a debate. Instead, Democrats are being shut out from even being able to bring up their 'No Fly, No Buy' bill. Instead, House Republicans are planning to go out on Friday for yet another vacation. They're saying to Speaker Ryan, 'Please don't take another vacation. We cannot take a vacation on our responsibility to protect the American people.'
"The House of Representatives is planning to sit in a long time. I took over some protein bars. The Senate is planning to send over supper. I joined in the filibuster earlier this week to get a similar vote in the United States Senate. Today I'm standing in solidarity with my colleagues in the U.S. House of Representatives."
Together w civil rights leader @repjohnlewis calling for #NoVoteNoBreak. pic.twitter.com/9QTeJF12CB

— Barbara Mikulski (@SenatorBarb) June 22, 2016
On the House floor, this is what #unity looks like. #NoBillNoBreak #NoMoreSilence @ChrisVanHollen @repdonnaedwards pic.twitter.com/uEba7MSyE9

— Barbara Mikulski (@SenatorBarb) June 22, 2016
With my colleagues at 3:17 AM #NoBillNoBreak pic.twitter.com/grslvwxtOO

— Rep. John Delaney (@RepJohnDelaney) June 23, 2016
Standing with my colleagues @RepSarbanes & @SenatorCardin demanding a vote #NoBillNoBreak #NoFlyNoBuy pic.twitter.com/VKyTmtkDyt

— Rep. John Delaney (@RepJohnDelaney) June 22, 2016
We call ourselves the People's House. It's time we do the People's work. Americans want action. #HoldTheFloor #NoBillNoBreak #DisarmHate

— Chris Van Hollen (@VanHollenForMD) June 22, 2016