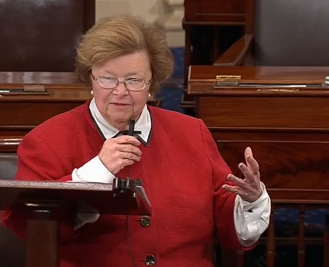 Mikulski: "We Are Really Being Hard Hit" (Video)
On Oct. 10, Senator Barbara Mikulski, spoke on the Senate floor on the disastrous impact of shutdown on Maryland, nation and the world. Take a look.
Video Courtesy: mikulski.senate.gov

Senator Mikulski's remarks on the Senate floor, as delivered.
"The Senate is meant to be the greatest deliberative body in the world. If we follow the rules, follow the regular order, follow the committee process, follow the ways through the committee process for resolving disagreement and dispute, I think we can get through this. I believe that on both sides of the aisle that there are pragmatic people devoted to this country who want to solve the two major problems that we have facing us right this minute. That is to reopen government, because we're now on the 10th day of the shutdown. And number two to meet the debt obligations of the United States of America as mandated in the 14th Amendment of the Constitution.
"I call upon my colleagues on both sides of the aisle and both sides of the dome, let's reopen government, let's pay our bills and let's get through the regular committee processes to solve our problems. There are those on the other side of the dome, in the House of Representatives, who are proposing a new Supercommittee. We've been there and we've done that. After the 2011 crisis, when we faced our debt limit, there was a process put in place called a Supercommittee. It went nowhere, and this new idea will go nowhere as well. It is a new process that will only result in more delay.
"Now, I think we have two super committees. I call them super committees because they're great committees, they're wonderful committees. That's the Budget Committee, chaired by Senator Patty Murray and her ranking member, Senator Jeff Sessions, himself a distinguished judge from Alabama. So he knows about conflict resolution. There is the Appropriations Committee that deals with discretionary spending, chaired by me and my Vice Chairman Senator Richard Shelby, a seasoned, rock-ribbed fiscal conservative who knows how to concentrate on the bottom line so that we can be a more frugal government and a more effective government. Let these committees do their jobs. Also, there is the Finance Committee chaired by Senator Max Baucus and the vice chairman, Senator Grassley from Iowa, who has an incredible history of being a compassionate conservative. He knows the tax code and knows the values of Iowa that put country above party.
"Instead of inventing new committees and new processes, free us up to do our job. Free us up to be able to do what the committee process is meant to be able to do. For me in the Appropriations Committee, we moved all of our appropriations bills. We are ready to come to the floor. We are ready to go to conference if called upon. We are ready to do it. Senator Murray on the Budget Committee is ready to go to conference with the House, but 21 times she was blocked by six naysayers, primarily representing a small Tea Party faction within the Republican Party. The Republican Party, the Grand Old Party, has traditionally understood the need to maintain the values of the county, that you're fiscally conservative but you follow the rules that were established.
"The rules of the Budget Committee Budget Act say that they're supposed to have their job done by April 15th. Well, we moved the budget on March 23, over 200 days ago, and over 20 requests to go to conference to meet with Congressman Paul Ryan and his House counterparts have been blocked. Senate Democrats want to work out what our discretionary spending should be, what our revenues should be, what should we evaluate in terms of our mandatory spending while not shrinking those earned benefits like Social Security and Veterans benefits. Seniors and veterans count on and work their lives for those benefits. Some even put their life on the line. We've got to be able to do our job.
"But I'll tell you what has been the latest situation that has so shocked me. We're on the verge of being a deadbeat nation. We are on the verge of being a global deadbeat nation. What is a deadbeat? A deadbeat is someone who does not meet their financial obligations. Over the last three days, we've heard that families of men and women who died in the line of duty serving their country weren't going to get the death benefits they're entitled to because of a government shutdown. The Fisher House, well-known and deeply cherished for serving military families, offered to step forward to pay those benefits. I want to thank them for stepping forward. But, my gosh, we're the United States of America, with the strongest and best military in the world. To honor its obligation to its own, the United States has to borrow money for these death benefits. That is deadbeat. I think it's humiliating. I think it's despicable, and it shows how low we have sunk.
"We can get it back. It's in our power. This is being inflicted on us by other Americans sworn to uphold the Constitution of the United States of America. And when they took that obligation, they didn't take that obligation to just uphold the amendments they like, like the Second Amendment, they took that obligation to uphold all of the amendments. And let's start with the 14th Amendment, which says that the debt of the United States of America should not be called into question. It says clearly in the Constitution that no matter what, America will pays its bills. The safety and reliability of the United States of America to meet its debt obligations is the financial glue that helps hold the global economy together.
"Now I'm not going to go into doomsday and Armageddon, but just read what the Ambassadors of China and Japan say – one a great ally and the other a formidable competitor. They are saying, 'We are holding your debt. Pay your bills or a fiscal crisis will begin to unravel in your country and around the world.' We cannot be a deadbeat nation. If we are a superpower, we must, first of all, show our power by meeting our financial obligations.
"Now, how we get our public house in order by reducing our public debt, is the subject of the Appropriations Committee, the Budget Committee and the Finance Committee. We have the capability to do it. I'm really calling upon my friends on the other side of the aisle, and there are many. It's not that we're pals, it's that we've come together out of mutual respect, solving mutual problems, being of help to each other mutually that we've been able to keep the government functioning and doing it in a way that is smart and affordable. To my friends, please, let's reopen government. I'm calling upon the House to pass the Senate continuing funding resolution that would reopen government until November 15th and lay the groundwork for resolving our Appropriations bills and canceling sequester. And I call upon the six in the Senate who are blocking us from going to a budget conference to do this. Those are two simple acts within our power to do it. I hope that we can do it.
"I had intended today to really speak about how the shutdown is affecting Maryland. We are really being hard hit. Maryland and Virginia have the largest concentration of federal agencies, both civilian and military, in America. We're really proud of that. We're so proud of the fact that we have the National Institutes of Health, the Food and Drug Administration and the National Institutes of Standards and Technology that works with our private sector to enable us to sell products around the world. We're so proud of the fact that we have the Nuclear Regulatory Agency, the Consumer Product Safety Commission to make sure that we are looking out for things large and small, whether it's making sure our mattresses are not flammable and that our cribs and swimming pools are safe for our children.
"I'm proud of those agencies. And I'm sorry that my federal employees are not working. It is having a terrible impact on the Maryland economy. Both our comptroller and our governor are talking about the significant lost revenue because people aren't working and people aren't buying. When you talk to small businesses where these agencies are located, it is just terrible.
"The Social Security Administration is headquartered in Maryland in a community called Woodlawn. A wonderful, vibrant community of civic engagement. Across the street from the Social Security Administration is a small business called the Salsa Grill. Usually crowded with lunch hour people, early morning coffee, groups meeting for baby showers that we women like to have or birthday parties the guys are throwing for one of their pals. The Salsa Grill last Friday, instead of having 30 customers, had three. The owner was quoted as saying, 'If the shutdown goes on much longer, I won't be able to hang on any longer.' Small businesses are what help make America great.
"I talked to one of the largest automobile dealers in Maryland. The showrooms were empty in the Baltimore-Washington Corridor last weekend even though they have wonderful new cars and are ready to do deals to move out the 2013 models. Empty, empty, empty.
"This ripples through our economy. This isn't just, 'oh, we're going to contain government.' We are hurting ourselves. The fight about Obamacare is over. Let's say goodbye to that fight. Let's get on to the fiscal issues of the United States of America.
"As the Chairwoman of the Appropriations Committee, I am ready to negotiate. I am ready to meet, to compromise, to see how we can have our domestic and our national and defense discretionary spending done in a way that begins to reduce our public debt while also having a pro-growth way of public investments. Making our country safe. Building roads and building the information super highway. Educating our young people. And doing research and development.
"I feel very strongly that we've got to solve our problem. I want to say to the other side of the aisle that I'm ready to work together. We've done it in the past. We like doing it. For we pragmatists to get into a room, solve problems, give-and-take and actually learn from each other. Right now we need to set the example for the world that we are the greatest deliberative body. We've got to get back to deliberating instead of delaying.
"To the House, please pass the continuing funding resolution. To the Senate, lift your objection to the Budget Committee going to conference. Let's reopen the government. Let's pay our bills. Let's sit down and negotiate the way a great nation is worthy of. And let's honor the Constitution of the United States."
Related Posts