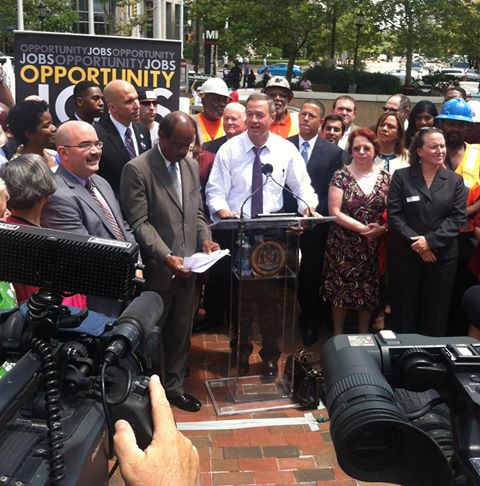 Millions for MoCo Transportation Projects (Photos & Video)
Maryland Governor Martin O'Malley and Lt. Governor Anthony Brown announced $628 million in transportation investments for Montgomery County at a press conference on Aug. 5 at the Bethesda Metro. MyMCMedia's Sonya Burke reports.
The transportation announcement provides funding for the following key projects:
—Purple Line: a 16-mile light rail line that runs east-west inside the Capital Beltway between Bethesda and New Carrollton, will receive $280 million in new funding for right-of-way acquistion and final design and an additional $400 million in new construction funding.
—Corridor Cities Transitway, a 15-mile bus rapid transit system extending from the Shady Grove Metro Station to the COMSAT facility just south of Clarksburg, will receive $100 million in new funding for right-of-way acquisition and final design for the Phase I portion extending to the Metropolitan Grove MARC Station in Gaithersburg.
—I-270/Watkins Mill Road Interchange will include improvements to I-270 from north of MD 124 to south of Middlebrook Road and bicycle and pedestrian improvements along Watkins Mill Road. The project will receive $125 million in new funding for construction.
—Ride On Bus will receive $85 million in new funding, increasing the State's subsidy by 50 percent to fully fund the State's fair share of the bus service.
—MD 97 Relocation Near Brookeville will receive $25 million in new construction funding to build a two-lane MD 97 highway from south of Brookeville to north of Brookeville, relieving traffic congestion and improving safety in the historic town center.
—US 29 Interchanges Design at Musgrove Road and Fairland Road will receive $7 million in new funding for design of two interchanges that will accommodate projected traffic growth along this key north-south route, reduce congestion and improve highway safety.
—MD 124 Widening (Phase 2) will receive $3 million in new funding for design to widen this route to a six-lane divided highway from Midcounty Highway to south of Airpark Road. The third phase, widening MD 124 to Warfield Road, is not funded.
—MD 28/MD 198 Corridor Transportation Improvement Study will receive $3 million in new planning funds to evaluate possible roadway improvements in the corridor from MD 97 to I-95.
You can watch the entire press conference here:  State's Transportation Press Conference (Photos & Video)
For more on the Purple Line: Purple Line (Infographic)
For more from county officials:
"This is Huge" (Video)
Transportation Needs in Montgomery County (Video)
"You Need Public Officials to be Relentless" (Video)
"This Brings a Lot of Jobs" (Video)
More photos from the event: