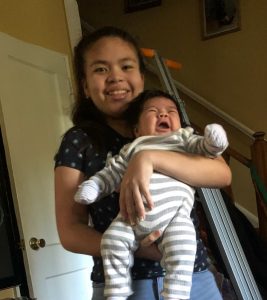 Update: Wheaton Teenager, Baby Found Safe
Update, Nov. 13: Montgomery County police have reported that Wendy Hernandez and her son, Jason Hernandez, have been found safe and unharmed.
---
Detectives from Montgomery County Police Department are asking for assistance in locating Wendy Orvelina Hernandez, 15, of Wheaton, and her two-month-old baby boy, Jason Hernandez.
According to a police report, the two were last seen by Hernandez's family on Tuesday, Nov. 6, at 6:30 a.m. At the time, Wendy Hernandez was leaving her Valleywood Drive home "on foot," carrying her infant. Since then, the family has been unable to contact Hernandez.
Wendy Hernandez is a Hispanic female, with black hair and brown eyes. She is 4'11" tall, and weighs around 130 pounds. Two-month-old Jason, a Hispanic male, has black hair and brown eyes.
Anyone with information about the whereabouts of Wendy Hernandez and her infant should contact the Montgomery County Police non-emergency number at 301-279-8000, or the county's Special Victims Investigations Division at 240-773-5400.