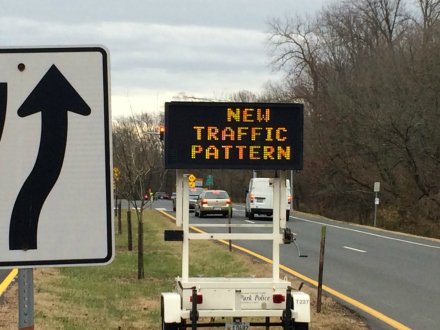 Mixed Reaction to New Traffic Pattern at Capital Crescent Trail and Little Falls Parkway (PHOTO)
There's a new traffic pattern at the intersection of the Capital Crescent Trail and Little Falls Parkway in Bethesda, and reaction to the change has been mixed.
The Parkway has been narrowed from two lanes to one in each direction approaching the intersection, and the speed limit has been reduced from 35 mph to 25 mph. The safety improvements follow a fatal collision involving a cyclist at the intersection last October.
"We are deeply saddened by the tragic incident that occurred at this intersection," said Michael Riley, director of Montgomery Parks. "We recognize that immediate action is necessary as well as longer term solutions to address the ongoing challenge of keeping all trail users safe at intersections."
Since the changes went into effect earlier this month, Parks spokesperson Melissa Chotiner said the parks department has received positive feedback from bicyclists and trail users. There's also been some criticism from residents who have emailed parks officials about congestion and traffic backing up on the Parkway because of the lane and speed reductions.
According to Chotiner, the new traffic pattern is an interim solution as the parks department has a comprehensive study underway at hundreds of trail crossings at roadways in the county. She said the Countywide Trail Intersection Safety Assessment Study, which began in Oct. of 2015, is a priority for the department and will guide long-term changes.
The Department is working in collaboration with the Montgomery County Department of Transportation and the Maryland State Highway Administration on the study. Some of the changes that are being explored to improve safety include:
Adding crosswalks and other pavement markings (where not already present),
Installing pedestrian-activated Rectangular Rapid Flash Beacon,
Realigning trails and modifying intersection design to improve overall safety and trail user visibility, and,
Adding barriers to separate motorized traffic on roads from non-motorized traffic on trails.
"As far as when the study will be complete – it is sort of a rolling project – some intersection improvements are being incorporated already starting this year," said Chotiner. "We are working to get other improvements into the 2019 – 2012 Capital Improvements Plan – so with so many intersections it's definitely a long term process, with individual projects ongoing."
You can find more information about the study on the Parks department's website, here.