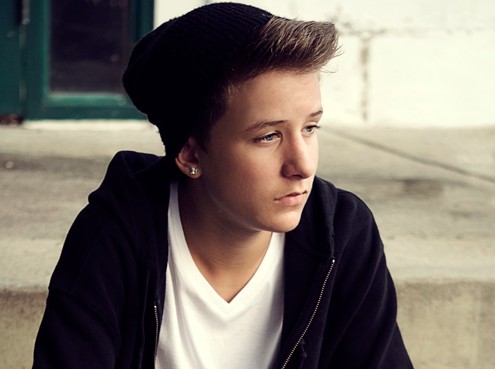 Mixing it Up with Quince Orchard's DJ Dunmyer
He's been on stage with some big names like Drake and Lil Wayne, but Evan Dunmyer, a Quince Orchard High School student says his goal is to be the disk jockey headliner at a major event.
MyMCMedia talked with Dunmyer about his talent.
1- How did you get into DJing?
When I was a little kid, my dad and I used hang out in the DJ section over at BestBuy even though we had know idea how to work any of it. One Christmas back in middle school my parents got me a little starter mixer & turntables (It was called Numark I-Dj3). It mostly sat there because we had no clue. It's not like you can grab a lesson book somewhere, so I started watching youtube videos and learning a little at a time. I haven't stopped since.
2- How long have you been doing it?
Well, I post all my music on SoundCloud and my first one when I really started getting serious about it was about a year and a half ago. My first decent size party, where I brought all my new gear was June 2013, so I guess that's about right. Up until then I held some small parties in my basement but I had no Idea what I was doing. I was just pressing a bunch of buttons and making noise. The kids like it, but it wasn't really DJing.
3- How did you get good at it?
Steve Aoki and lots of practice, I guess. I remember coming home everyday after school in 7th grade and sitting in my basement for hours just mixing music from one song to the next and seeing what I could do with it. During that spring break I was watching a tutorial and in the little sidebar I saw a video called "Steve Aoki – Live at Ultra Music Festival 2012". I think I watched that video 10 times. I looked at the set list and just started downloading the music. When I started mixing that music, I fell in love with it. Later I started to broaden my musical interests and got into Trap Music (Sorta in between House Music and Dubstep) and that eventually got me into Hip Hop and Moombahton. My parents encouraged me to make new mixes every 2 to 3 weeks with some of my favorite music and music that is popular so people could just listen to me and see what I was about. Having that goal kept me working.
4- What do you like about it?
It might sound kinda dumb, but it really is just the music and the people. I like the feeling when I find a new track and it is amazing and I just want to play it over and over and over again, and then when playing it to a crowd if they have a good reaction it makes the feeling that much better. Also playing my set on a stage for thousands of people and they're jumping around like crazy, feels pretty freakin' awesome.
5- Where do you practice?
We have the best neighbor in the world. I usually practice in my basement studio and it can get loud. She never complains and has come over to check it out a couple times. Any gig I get is really good practice too, because I get to see how people respond to what I've been working on. Sometimes I go to my friend Elan's house who is also a DJ and we can exchange music we like and ideas for our sets.
6- What type of work have you gotten as a DJ?
I've done fashion shows, teen dances and tons of house parties. But the big break was DJing for One Direction's V.I.P. party at National Park last summer and then they brought me to Philly for another 2 nights at Lincoln Financial Field. A month later I was on stage at Jiffy Lube Live opening for Drake and Lil Wayne. It was unbelievable. It was the first time I had ever gotten a dressing room. We ended up having dinner with RG3. It was a sick night.
I got to play Live at the Fillmore in Silver Spring. It was different than the other big gigs, because this time my name was on the bill. I was able to promote it and sell a bunch of tickets, so a lot of people were there to see me.They were coming to that show to hear my kind of music. My mom's a graphic designer and she had my logo projected on the big screen on stage. The show was insane! The crowd responded to my music just the way I dreamt it would be. I had a local rapper Al Chike come along and MC for me and he was perfect. He got everyone going crazy and he did a few songs of his own during my set. Also the Fillmore's dressing rooms are sweet. They have showers, huge T.V.s, and a ton of food.
7- What is your future goal?
My main goal is really just to keep building on this and be able to do it for a long time. My big goal is to headline that same Ultra Music Festival down in Miami that got me into this in the first place. Maybe some other kid will watch my Ultra video someday. Beyond that, there's this Top 100 Dj list they put out every year in Dj Magazine. Let's just say it's a dream to be that good.