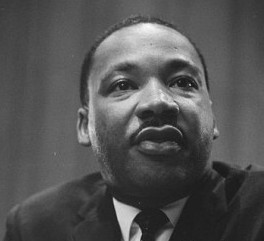 MLK Day of Service is January 18: How Will You Serve?
"Everybody can be great…because anybody can serve. You don't have to have a college degree to serve. You don't have to make your subject and verb agree to serve. You only need a heart full of grace. A soul generated by love." –Martin Luther King, Jr.
Martin Luther King, Jr. Day (MLK Day) is an American federal holiday marking the birthday of Martin Luther King, Jr. It is observed on the third Monday of January each year, which is around King's birthday, January 15. This year we will celebrate MLK Day on Monday, January 18.
We all know King was a spokesperson for nonviolent activism in the Civil Rights Movement, which successfully protested racial discrimination in federal and state law.
But did you know this?
The idea of MLK Day as a holiday was promoted by labor unions in contract negotiations. It was a vigorous process to get MLK Day recognized as a holiday. The first attempt was in 1979, when the bill came to the U.S. House of Representatives, it fell five votes short for passage. It wasn't until 1983, when President Ronal Reagan signed a bill creating a federal holiday honoring Dr. King.
Since then, it has turned to be a little more. In August of 1994, President Bill Clinton signed a federal legislation transforming the King Holiday into a day of "citizen action volunteer service" in honor of Dr. King.
At the Corporate Volunteer Council of Montgomery County (CVC-MC) and throughout the County, we are preparing for another great day of service. There are a variety of organizations posting volunteer opportunities for this year's MLK Day of Service.
At the Montgomery County Volunteer Center (www.montgomeryserves.org), they have numerous meaningful projects in need of volunteers. These community service projects help individuals, children, and families & organizations in the county that are in need. Projects include making care packages, making appreciation cards for military troops, preparing dry food packages for families, sorting and organizing coats and more. You can sign up to participate at one of the three satellite locations – Bethesda North Marriott Conference Center, Silver Spring Civic Center or Seneca Creek Community Church- at: montgomeryserves.org/mlk-day-service-2016.
Just this past Monday, the City of Gaithersburg Mayor & Council issued a proclamation calling for residents to honor Dr. King's memory by participating in the Day of Service. Gaithersburg has joined forces with Montgomery Serves and Seneca Creek Community Church to assist with service projects that will benefit the disadvantaged in our community. There are more than 15 service projects at the church for a variety of ages and skill levels.
Be sure to check out the MLK Volunteer Fair from 1-3:00 p.m. at the Bethesda North Marriott Conference Center, 5701 Marinelli Road in Rockville. The Volunteer Fair is a fantastic opportunity for volunteers to connect with community organizations to learn more about what they do. It's a wonderful way for you to meet the non-profits in the County and discover how your business can continue to volunteer beyond MLK Day.
If you see a non-profit organization at the fair that your business would like to serve on an ongoing basis, that is where the CVC-MC can help! When you join the CVC-MC, one can learn valuable resources to improve and enhance your employee volunteer and charitable contribution programs for your company. If you are interested becoming a CVC-MC Member, want to promote and participate in employee volunteerism and ascertain corporate visibility for your volunteer efforts, feel free to reach out to us or visit: http://cvc-mc.org/.
One of the CVC-MC's non-profit partners, Manna Food Center will be hosting the Manna MLK Food Drive 2016 on Saturday & Sunday January 16 & 17 at Giant locations all across the county. You can help by volunteering to staff a food collection at one of the participating Giant Food stores. For further information, click here.
There are many ways to volunteer over the MLK Day of Service weekend. To view these opportunities, click here.
To volunteer for the County's MLK Day of Service 2016, click here.
You can spend your day away from the office honoring the legacy of Dr. Martin Luther King, Jr., or you can spend your day by volunteering in your community instead. Don't miss out on this chance to participate in these fun and rewarding projects, while helping local nonprofits and people in need.
"Those who are not looking for happiness are the most likely to find it, because those who are searching forget that the surest way to be happy is to seek happiness for others." -Martin Luther King Jr.
So how will you serve?
#MLKDayofService2016