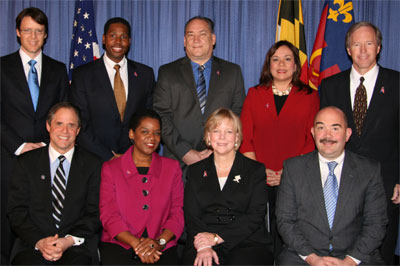 MoCo Committees Meet on March 11
The Montgomery County Council's Planning, Housing and Economic Development (PHED) Committee at 2 p.m. on Monday, March 11, will hold a worksession on an Office of Legislative Oversight Report reviewing the effectiveness of the county's economic development incentive programs. A key aspect of the report focuses on whether Montgomery County's economic development incentive programs align with the best practices used by other governments that offer incentive programs.
The PHED Committee, which is chaired by Nancy Floreen and includes Councilmembers Marc Elrich and George Leventhal, will meet in the Third Floor Conference Room of the Council Office Building, which is located at 100 Maryland Ave. in Rockville. The meeting can be viewed live via streaming through the county web site at www.montgomerycountymd.gov. It will be televised on delayed broadcast by County Cable Montgomery (CCM—Cable Channel 6 on Comcast and RCN, Channel 30 on Verizon) at a time to be determined.
The Council requested the Office of Legislative Oversight to compile the study of economic development incentive programs in order to assess which programs implemented by the County's Office of Economic Development have been most effective.
The report states local governments across the nation provide $80 billion per year in economic development incentives to businesses. In general, local governments provide incentives as a means to increase local economic growth through business investment and creating new jobs. Montgomery's Economic Development Fund is a discretionary program administered by the Department of Economic Development.
Montgomery County provides incentives via an Economic Development Fund and four types of tax credits for qualifying businesses to locate or expand in the County.
The report states that since the Economic Development Fund was started in Fiscal Year 1996, the county has provided more than $68 million in economic development incentives. Of that amount, $34 million was provided in direct financial assistance—about 75 percent of that total through the Grant and Loan program. About two-thirds of the Grant and Loan program awards were made for business retention projects compared to one-third for business attraction projects.
The county has provided $34.8 million to businesses in economic development incentive property tax credits through FY12.
At 9:30 a.m. in the Third Floor Conference Room, the Education Committee, which is chaired by Valerie Ervin and includes Councilmembers Phil Andrews and Craig Rice, will hold a worksession on an OLO report focusing on services for students on the Autism Spectrum. Councilmember Andrews requested the study to improve the Council's understanding and oversight of County appropriations aimed at serving students with autism disorders. The meeting will be televised live on County Cable Montgomery.
The worksession will include discussion about dispute resolutions between families and Montgomery County Public Schools (MCPS) regarding services provided. The worksession will feature remarks from parents concerning challenges to assigned services. Representatives from MCPS will also be involved.
At 2 p.m. in the Seventh Floor Hearing Room, the Government Operations and Fiscal Policy Committee, which is chaired by Nancy Navarro and includes Councilmembers Ervin and Hans Riemer, will discuss issues with the Board of Elections that arose from the 2012 general election. The meeting will be televised live on County Cable Montgomery.
Two of the main issues to be addressed are reported problems with absentee ballots and the Spanish language voter guide translation. Council President Navarro said the official voter guide included a misrepresentation of one ballot question in the Spanish translation.