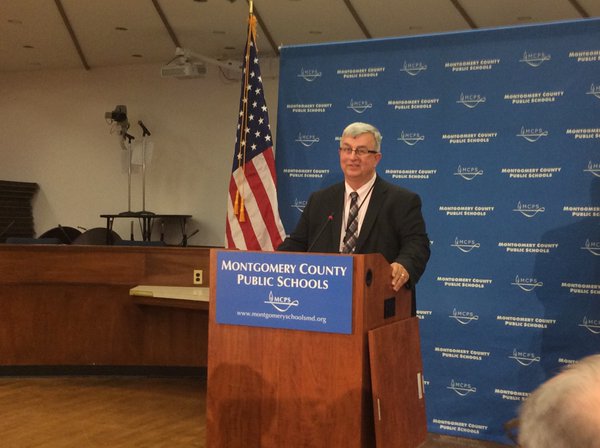 School Board Selects Dr. Jack Smith as Next Superintendent (VIDEO)
The Montgomery County Board of Education unanimously approved, on Feb. 4th, the conditional appointment of Dr. Jack Smith as the next superintendent of Montgomery County Public Schools. Meet Dr. Smith, and hear some of his philosophy, in this MyMCMedia Extra video:
The appointment is contingent on contract negotiations and obtaining state approval. If all goes well, Smith is expected to begin his new job as MCPS superintendent on July 1. You can find out more about Smith, here.
Watch the MCPS news briefing in its entirety, below:
.@mocoboe president Michael Durso said board interviewed 11 candidates for superintendent. @mymcmedia pic.twitter.com/eqod0tJtxU

— Sonya Burke (@SonyaNBurke) February 5, 2016
There was applause when Dr. Jack Smith walked into @mocoboe meeting tonight. @mymcmedia pic.twitter.com/BP2Fc0lFQw

— Sonya Burke (@SonyaNBurke) February 5, 2016
.@mocoboe & superintendent finalist Dr. Jack Smith. @mymcmedia pic.twitter.com/98dCok2PTK

— Sonya Burke (@SonyaNBurke) February 5, 2016
Dr. Jack Smith addresses crowd about his appointment as next @MCPS superintendent. @mymcmedia pic.twitter.com/V3k9BO7lis

— Sonya Burke (@SonyaNBurke) February 4, 2016
.@mocoboe meeting underway — Dr. Jack Smith is the board's choice. @mymcmedia pic.twitter.com/arplWdK5iF

— Sonya Burke (@SonyaNBurke) February 4, 2016
.@mocoboe taking seats for special meeting about superintendent appointment. @mymcmedia pic.twitter.com/ZuQIpQg0cp

— Sonya Burke (@SonyaNBurke) February 4, 2016
.@nancy_navarro arrives at @mocoboe meeting for superintendent announcement. @mymcmedia pic.twitter.com/DG8llRzzMt

— Sonya Burke (@SonyaNBurke) February 4, 2016
.@RicePolitics at @mocoboe meeting tonight. @mymcmedia pic.twitter.com/FHabMcJMcA

— Sonya Burke (@SonyaNBurke) February 4, 2016
There will be a news conference after @mocoboe special meeting on superintendent appointment. @mymcmedia pic.twitter.com/eMNlegdfeB

— Sonya Burke (@SonyaNBurke) February 4, 2016
.@mocoboe special meeting begins at 6:30pm. pic.twitter.com/TNmrvHAT74

— Sonya Burke (@SonyaNBurke) February 4, 2016