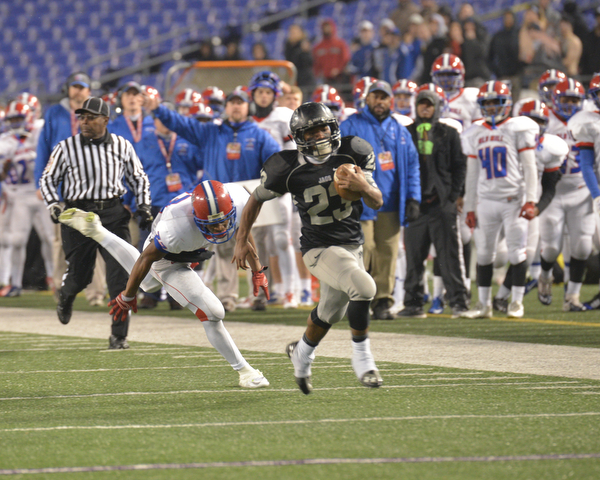 MoCo's High School Football Co-Players of the Year
Player of the Year (POY) awards start ringing out this time of year for all high school fall sports. MCM and I as MoCoMedia  Sports were a bit limited in our overall fall coverage when we began testing the Friday Night Light coverage concept this year with high school football. Fifteen different teams were covered during the year – some of those multiple times.
It is apparent from a displayed collection of talent that there were two individuals who standout for their team contributions, Northwest's Captain E.J. Lee and Damascus' Jake Funk.
The performance statistics mounted for both players. Lee had over 1,700 yards and 20 touchdowns while Funk had 1,600 yards and 31 touchdowns. What I saw was slightly different than those who cover these players on the sidelines. I did not need to choose one's performance over the other.
Why?
Maybe it's because the way that the Damascus community plays a 1976 Parliament Funkadelic's song – Give Up the Funk (Tear the Roof of this Sucker) during timeouts at home games. Or maybe it was the way Captain Lee ran up and down that hilly wooded path that separates Northwest's practice fields from a nearby soccer field. What I saw were leaders both on and around the field.
My brother John, an assistant coach at Damascus rave's that the Junior Jake Funk could one day be considered the best football player to ever come out of that up county school – that is saying a lot – since there have been many standouts that preceded Jake. We will see next year how all this plays out.
Lee, a senior, is waiting on a visit to a certain D1 school. His future education and possible next level step hang in the balance. I am sure Northwest's Coach Mike Neubieser has him prepared since he too went down a similar path.
One player, Lee was on a state championship team and the other, Funk, was on a state championship runner-up team. Both were instrumental in getting their team to that level of competition.
For me I became convinced that Northwest's EJ Lee was the top MoCo POY candidate when he took a hand off on NW's first play from scrimmage from the 25yard line in the 4A West Regional Playoff against Quince Orchard and ran 75 yards untouched to the end zone. BAM – how do you like now QO? Never mind that he scored 6 TDs a week earlier against DuVal in the regional semis.
Then there was my AHA moment with Jake Funk. Yeah he ran all over Rockville when I saw him first in October. But it really happened against Glenelg in the 3A State Semi-Final in Damascus. He played both ways all season but it was against Glenelg that his defense stood out – always near the ball – always in the game. He didn't let the top rated quarterback in the state beat the Swarming Hornets that evening. Survive and advance.
So it is that I chose not to choose one over another. They are both outstanding players in their own right and they helped to lead their 2014 teammates to play in a Championship game at the M&T Bank Stadium in Baltimore.
So for Jake – it will be another season of Friday Night Lights in the MoCo. For EJ – well he soon could be moving on to Game Day Saturday afternoon's.
Phil Fabrizio
@Photoloaf
Basketball Season is up next.