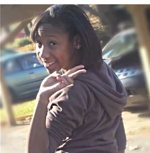 "Moment of Silence" Campaign (Video)
SafeKids Worldwide has launched a "Moment of Silence" campaign against distracted walking urging students and parents to take the pledge "devices down, heads up."
The campaign honors Christina Morris-Ward a 15-year-old Seneca Valley High School student who was struck by a car and killed on Halloween 2012 while, according to her mother Gwen Ward, dressed in dark clothes, wearing headphones and looking down at her phone as she started to cross the street. Ward's story is featured on the SafeKids Worldwide website that also remembers the thousands of teens who are hit by cars each year.
According to the SafeKids Worldwide website, teens account for 50 percent of all pedestrian deaths among kids ages 19 and under. Injuries among older teens are on the rise – an increase of 25 percent over the previous five years that SafeKids states is likely attributable to distracted walking.
Infographics developed by SafeKids show that "one in five high school students and one in eight middle school students were observed crossing the street distracted. Students were most often texting on a phone (39 percent) or using headphones (39 percent). Girls were 1.2 times more likely than boys to be walking while distracted."
SafeKids is a program of Montgomery County Fire & Rescue Services. Montgomery County's Department of Transportation is developing an education program aimed at high school students that will be launched later this year to reduce pedestrian injuries and fatalities.