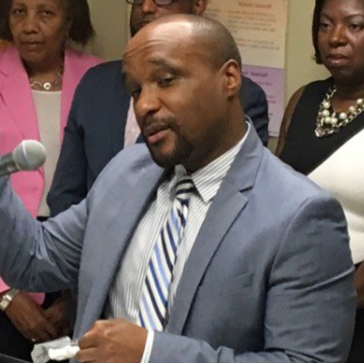 Montgomery Appoints New Health Officer
@DOHDC's Dr. Travis Gayles demonstrating how to administer life-saving naloxone for opioid overdose pic.twitter.com/3yYvBCI2YS

— DC Dept of Health (@DOHDC) July 14, 2017
Montgomery County's new health officer is Dr. Travis Gayles, the chief medical officer for the HIV/AIDS, Hepatitis, STD, and Tuberculosis Administration, and Division Chief for STD-TB Control for the District of Columbia Department of Health.
Gayles will start in Sept. 18, according to an email to staff from HHS Director Uma Ahluwalia.
Gayles could not be reached.
Gayles succeeds Dr. Ulder Tillman, who died in January.
According to the email, Gayles is a native of Chase City, Virginia.
"We are fortunate to have such an accomplished public health professional join our team. Dr. Gayles will assume leadership of all federal, state and locally funded public health programming within Montgomery County, Maryland," Ahluwalia said.
In her email, Ahluwalia paid tribute to Tillman.
"It has been a difficult transition for all of us.  Each time I pass her empty office, I am once again reminded of the loss to our community," she wrote.
"It is a testament to her memory and to the caliber of our staff and partners that the commitment to the work has not wavered, even as we come to terms with our loss.  This is critical work for our department, our community and for the people we serve.  We have attempted, as best as we could, to continue with fidelity and resolve."
In this MyMCMedia extra, we asked County Executive Ike Leggett his thoughts on the new health officer:
Previous Posts:
Leggett Releases Statement Following Death of Dr. Ulder Tillman