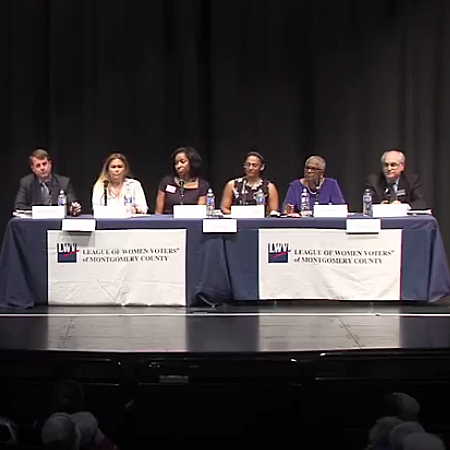 Montgomery Board of Education Candidates Forum (VIDEO)
The League of Women Voters of Montgomery County, Montgomery County Council of PTAs  and the  NAACP (Montgomery County, MD Branch Parents' Council) held a Board of Education candidates forum Sept. 28 at John F. Kennedy High School.
The forum included Jeanette Dixon and Phil Kauffman in the at large race; Brandon Rippeon and Rebecca Smondrowski in the District 2 race; and Shebra Evans, and Ajali Reed Phukan in the District 4 race.
Tracie Potts of NBC 4 moderated the forum.
You can watch the forum in its entirety here:
The Presidential General Election is scheduled for Nov. 8th. Early voting in Montgomery County takes place from Oct. 27 – Nov. 3rd. Find out more about the election, here.