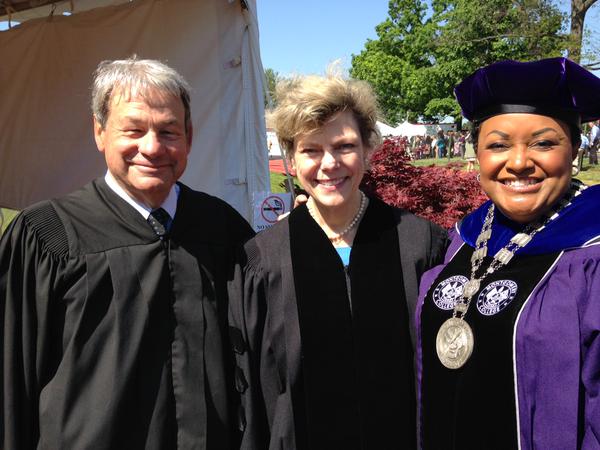 Montgomery College Graduation Held Friday (PHOTOS)
Montgomery College recognized the class of 2015 in commencement ceremonies May 22 at 10 a.m. on the Rockville Campus. Graduates from the College's three campuses, along with apprenticeship graduates in the Workforce Development and Continuing Education programs, will be honored.
In addition, the Board of Trustees paid tribute to community leaders and College benefactors. Honorary degrees will be presented to Eliot Pfanstiehl, CEO and founder of Strathmore Hall Foundation, Inc; C. Marie Taylor, executive director of the Community Foundation of Montgomery County; Dr. Michael Lin, former chair of the Board of Trustees of Montgomery College and biomedical research scientist; and commencement speakers, journalists Cokie and Steve Roberts. Cokie Roberts is a political commentator for ABC News, providing analysis for all network news programming. Roberts also contributes political analysis for National Public Radio.
Here are some tweets from the event.
Commencement speakers Steve and Cokie Roberts with @DrPollard_MC. #MCGRAD2015 pic.twitter.com/FCfdjCNgCn

— Marcus Rosano (@MC_MarcusPR) May 22, 2015
Fidelis is a BOT Scholar, @TheJKCF scholarship winner, an #MCGRAD2015 and headed to Ivy Lge @Penn! pic.twitter.com/VcWFtTSxDy

— Marcus Rosano (@MC_MarcusPR) May 22, 2015
Congratulations to the Class of 2015! #MCWorks4Me #MCGRAD2015 @montgomerycoll pic.twitter.com/7cCwbTsm3v

— Dr. DeRionne Pollard (@DrPollard_MC) May 22, 2015