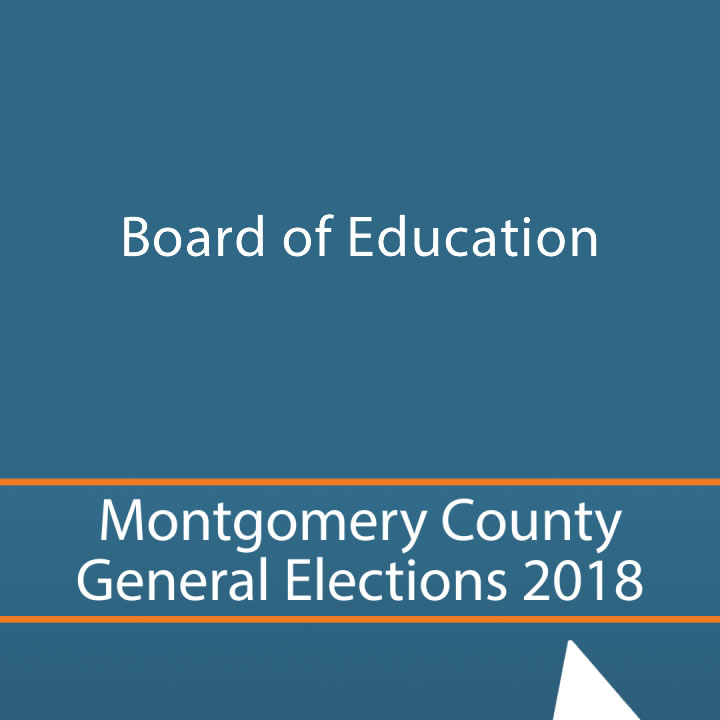 Montgomery County Board of Education General Election Results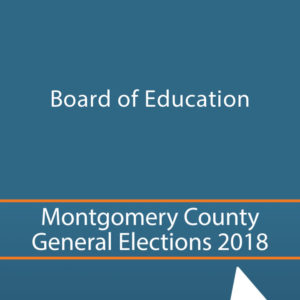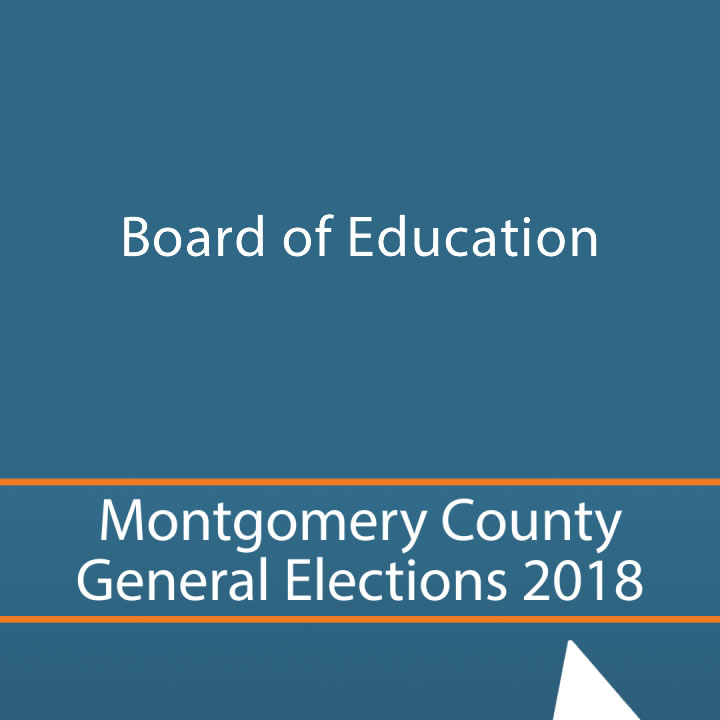 Montgomery County voters will elect four nonpartisan members to the Board of Education in November – one At Large and one each from Districts 1, 3, and 5.
Polls are open Tuesday from 7 a.m. to 8 p.m. for the general election.  Anyone in line at 8 p.m. will be permitted to vote.
The Board of Elections will release results of Early Voting Tuesday as soon as possible after 8 p.m. The first Election Day results are scheduled to be released at 9 p.m. Results will be updated every 25 minutes after 9 p.m. until all results are received at the Board of Elections office.
Watch election night live coverage of the local races starting at 9 p.m. here on the MyMCMedia.org website.
For the most updated results, visit the State Board of Elections website.
RESULTS OF BOARD OF EDUCATION RACES
Last Updated 11/07/2018 11:26:18 a.m.
Board of Education
At Large
Vote for 1
(255 of 255 election day precincts reported)
Name
Early Voting
Election Day
Absentee / Provisional
Total
Percentage
Julie Reiley
37,533
85,588
0
123,121
48.2%
Karla Silvestre
42,664
87,743
0
130,407
51.0%
Other Write-Ins
462
1,578
0
2,040
0.8%
Board of Education
District 1
Vote for 1
(47 of 47 election day precincts reported)
Name
Early Voting
Election Day
Absentee / Provisional
Total
Percentage
Maria Blaeuer
34,519
84,892
0
119,411
48.8%
Judy Docca
41,350
82,164
0
123,514
50.4%
Other Write-Ins
438
1,482
0
1,920
0.8%
District 3
Vote for 1
(65 of 65 election day precincts reported)
Name
Early Voting
Election Day
Absentee / Provisional
Total
Percentage
Lynn Amano
28,186
62,759
0
90,945
36.1%
Patricia O'Neill
50,544
108,774
0
159,318
63.2%
Other Write-Ins
400
1,368
0
1,768
0.7%
District 5
Vote for 1
(47 of 47 election day precincts reported)
Name
Early Voting
Election Day
Absentee / Provisional
Total
Percentage
Brenda Wolff
73,615
160,122
0
233,737
98.8%
Other Write-Ins
695
2,129
0
2,824
1.2%
General Election Night Coverage
Montgomery Community Media's live coverage of the Nov. 6 Election results starts at 9 p.m. Watch here:
CANDIDATES FOR BOARD OF EDUCATION
Board of Education District 1
Board of Education District 3
Board of Education District 5
Board of Education At-Large
Julie Reiley
Karla Silvestre