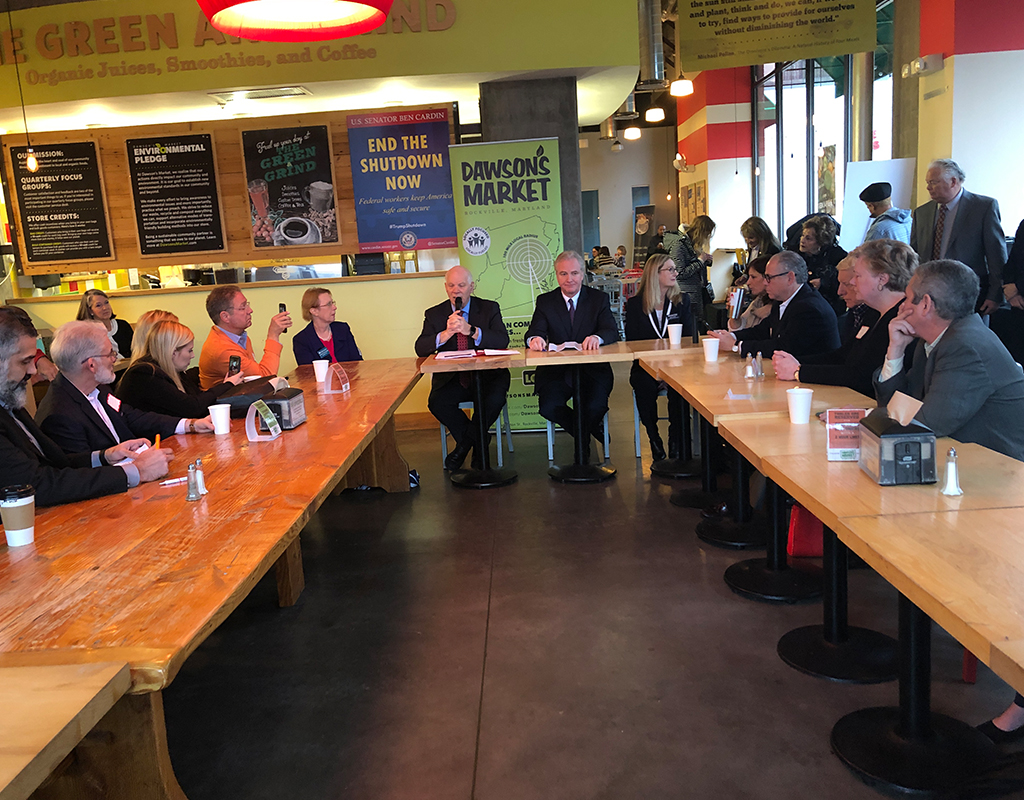 Montgomery County Business Leaders Explain How Shutdown Affects Their Companies
Senators Ben Cardin and Chris Van Hollen visited Dawson's Market in Rockville Thursday morning to discuss the shutdown with local business leaders. Here's what Montgomery County's business leaders had to say about the event, followed by a Tweet recap of the roundtable discussion.
Two Montgomery County Business Leaders React to Shutdown Roundtable Discussion
MCM spoke with Elise Ambrose, the president of Elite Personnel in Bethesda, and Sherwin Shafie, the CEO of Marstudio in Rockville.
Elite Personnel is a professional staffing firm that helps people land jobs. Ambrose said that the business primarily helps to staff private companies, but they also work to staff "some government contractors."
According to Ambrose, many of Elite Personnel's clients have canceled job orders because they are nervous about the economy.
Ambrose said, "We're off about 20 percent, and I would say another week it's going to be 50 percent or more, and if it goes any longer than that it's literally a disaster for a company like mine."
After the roundtable discussion, Ambrose, a Democrat, was satisfied with Cardin's and Van Hollen's efforts to re-open the government, but she was frustrated by Senate Majority Leader Mitch McConnell's refusal to bring a bill to re-open the government to the Senate floor.
"He needs to do his job, which is to bring the bill to the floor, get the government open and then we can argue about the border security," said Ambrose. "Border security's fine, [but] you don't hold people hostage."
During the roundtable discussion, Shafie, a life-long Democrat and an immigrant, challenged Cardin and Van Hollen about why Democrats are refusing to fund President Donald Trump's proposed southern border wall.
He asked, "Why are Americans being put second?"
During Shafie's interview with MCM, he said that there's "a level of uncertainty" with his business clients (Marstudio is a branding and marketing firm that helped MyMCMedia with its website).
"Even if you aren't being directly impacted financially, there's still the level of uncertainty […] with that level of uncertainty, you get [clients] who get cold feet and they don't want to make the decisions that they would otherwise make, or they're at least waiting to see how things turn out."
Here's What Went Down When Cardin and Van Hollen Talked Shutdown With Small Business Leaders in Rockville
Senators Cardin, Van Hollen Talk Shutdown with Local Business Leaders