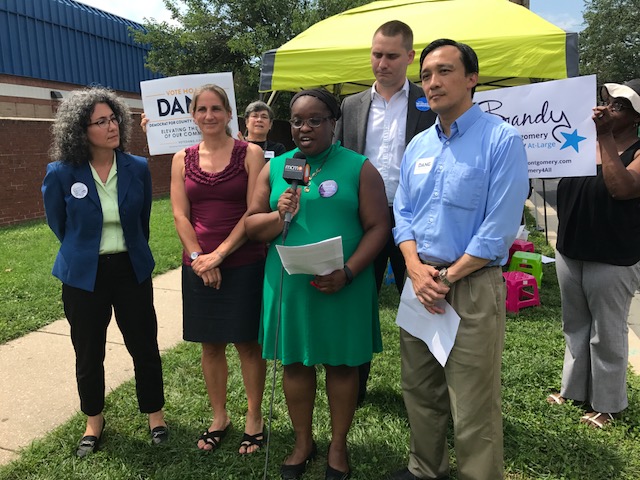 Montgomery County Candidates Criticize Donald Trump's Response to Charlottesville Protest (VIDEO)
Following President Donald Trump's recent statement on a white supremacist rally in Charlottesville, Virginia that left one woman dead and dozens injured, a few Democratic candidates running for the Montgomery County Council and a candidate running for the Maryland House of Delegates, held a news conference early Wednesday to denounce Trump's statement.
During a news conference with reporters held in New York City earlier this week, Trump answered questions about Charlottesville and his response to the rally.
"You had a group on one side that was bad and you had a group on the other side that was also very violent," he said.
Disappointed by his statement and "inability to call out white supremacy," Montgomery County Council At-large candidates Brandy Brooks, Hoan Dang, Danielle Meitiv, and Chris Wilhelm joined District 20 Delegate candidate, Lorig Charkoudian, to criticize the president's statement.
View the full news conference below:
Below is Wilhem's response to Trump's statement:
A few 2018 Democratic candidates are denouncing President Trump's "both sides" comment on hate violence here in Takoma Park. @mymcmedia pic.twitter.com/mHQHji9bEc

— Mitti Hicks (@MittiMegan) August 16, 2017