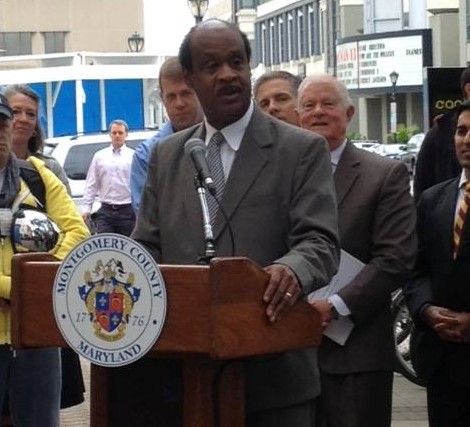 Montgomery County Launches Bikeshare Network (Photos)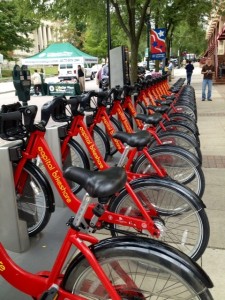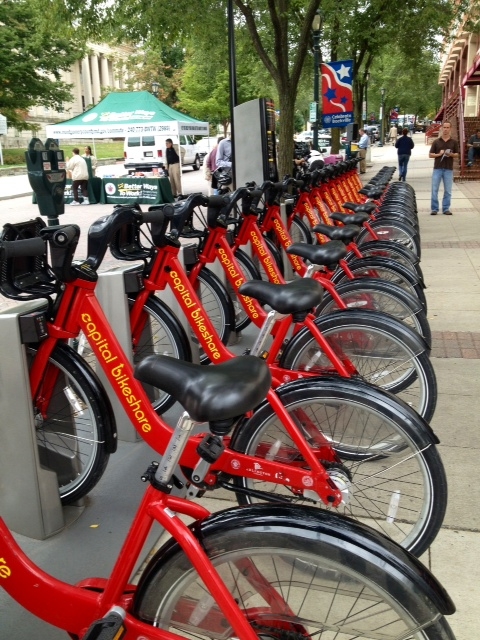 Montgomery County Executive Ike Leggett and other officials celebrated the grand opening of the County's Bikeshare Network on Sept. 27 in downtown Rockville.
The launch (14 stations) includes the first installment of 51 Bikeshare stations and 450 bikes in Bethesda, Friendship Heights, Silver Spring, Takoma Park, Rockville, Shady Grove and the Life Sciences Center area.
The program is the first  year-round system in Maryland and is part of the regional Capital Bikeshare network linking the County with bike share systems in the District of Columbia, Arlington and Alexandria.
"Bikesharing is proving to be a phenomenal success in the region having recently celebrated its five millionth rider, and we have no doubt that Montgomery County residents, employees, retail and restaurant patrons, and other visitors will also be enthusiastic participants," said Leggett. "Bikeshare is another cost effective transit option that can help reduce traffic congestion by eliminating the need to drive for short trips. We expect Bikeshare to significantly expand opportunities and improve the quality of life for all our residents. And, the special assistance available to low-income Bikeshare users will make this 24/7 transit option particularly appealing to those who hold multiple jobs or participate in job training programs.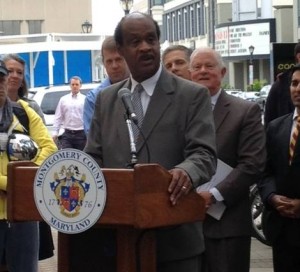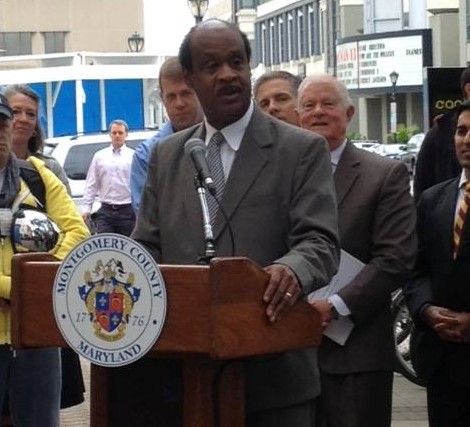 "We are very grateful to all our funding partners, including the State of Maryland, the Metropolitan Washington Council of Governments, Federal Transit Administration, the City of Rockville, the Planning Board and the Chevy Chase Land Company for their financial assistance," he said. " We also want to thank the public and private sector landowners who worked with us to enable siting of Bikeshare stations on their properties."
"Bikeshare is an important step forward for Montgomery County and the entire region," said Montgomery County Council President Nancy Navarro. "The Council funded this project as part of our ongoing quest to reshape Montgomery County roads so they are safe and pleasant for residents to walk, bike, drive, or ride public transportation."
"The sturdy red bikes are finally rolling into Bethesda, Silver Spring and Rockville," said Montgomery County Councilmember Roger Berliner, who chairs the Council's Transportation, Infrastructure, Energy and Environment Committee. "Bikeshare represents an important step in creating a Montgomery County that is less dependent on the automobile and more supportive of healthier, greener options."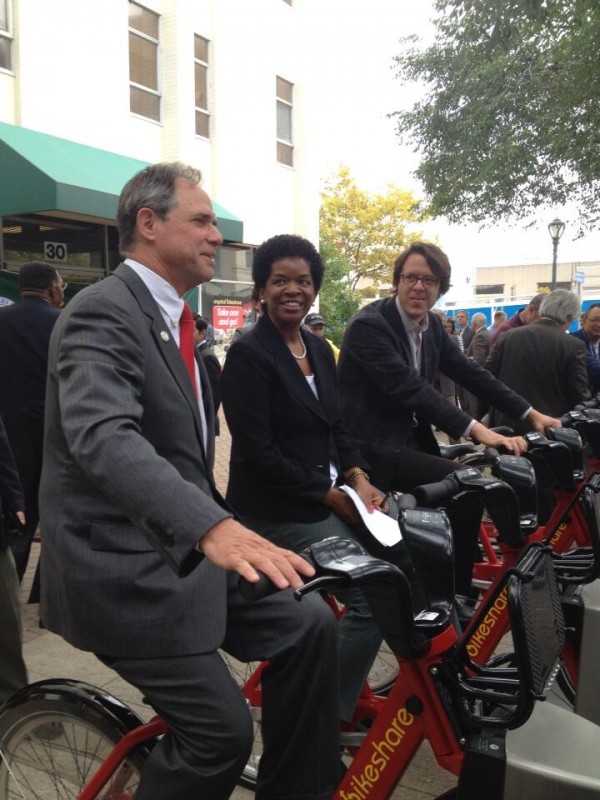 "Since my arrival at the Council in 2006, the Bikeshare program and the completion of the Metropolitan Branch Trail have been at the top of my legislative agenda," said Montgomery County Councilmember Valerie Ervin, who represents East County, which includes Silver Spring and Takoma Park. "I am thrilled that the Bikeshare program will provide Montgomery County residents with another way to bike to work or enjoy a weekend ride on one of the many beautiful trails in our community. The infrastructure needed to keep pedestrians, cyclists and motorists safe is also a priority for me and remains on the front burner as I continue to work on these issues."
Leggett made the announcement in Rockville at one of the 21 stations in the Rockville, Shady Grove and the Life Sciences area designed to encourage low income reverse commuters and job trainees. Those who qualify will receive a free, one-year membership in Capital Bikeshare that will enable them to use any Bikeshare station in Montgomery County, as well as receive a free bike helmet, safety training and route planning assistance. These stations were partially funded by a $1.3 million Federal Transit Administration Job Access Reverse Commute (JARC) grant approved by the National Capital Region Transportation Planning Board and $300,000 in local matching funds from the City of Rockville.
"The addition of the Capital Bikeshare system to Rockville will help increase the visibility of bicycling as a legitimate mode of transportation in Rockville and help us become an even more Bike Friendly Community," said Rockville Mayor Phyllis Marcuccio.
Other supporters of the Rockville / Shady Grove / Life Sciences Center Bikeshare program include the Washington Metropolitan Area Transit Authority; MontgomeryWorks; Montgomery College; The Universities at Shady Grove; Johns Hopkins University, Montgomery County campus; Montgomery County Chamber of Commerce; and the Gaithersburg-Germantown Chamber of Commerce.
For the Downcounty Bikeshare program in Friendship Heights, Bethesda, Medical Center, Takoma Park and Silver Spring, the Maryland Department of Transportation provided a $1,008,000 grant. In addition, the Maryland legislature approved a bill that provides a $250,000 bond to the Bikeshare program. Montgomery County received a $112,000 funding commitment towards the cost of the Downcounty Bikeshare stations from Chevy Chase Land Company and $140,000 from other developer payments made to the Montgomery County Planning Board and dedicated to Bikeshare.
"As part of Governor O'Malley's Cycle Maryland Initiative, we created Maryland's Bikeshare Program two years ago to help local jurisdictions provide residents with an easy and inexpensive way to take short trips and connect transit riders to their final destinations," said Transportation Secretary James T. Smith, Jr. "Our $1 million investment in Montgomery County's program is paying off with today's opening of the State's first year-round Bikeshare stations, and we look forward to celebrating the opening of state-funded programs in Baltimore City and College Park."
"We are proud to support Bikeshare in Montgomery County," said David Smith, president, The Chevy Chase Land Company. "Its popularity and success in D.C. and Virginia demonstrates the importance of bicycling as part of an effective urban transportation network, and we expect that residents and commuters in Montgomery County will embrace this option."
The Downcounty system will expand the reach of Metrorail, Metrobus, MARC and MTA bus services; provide low-cost transportation options in the most urbanized and congested portion of Montgomery County; help get people out of their cars for short trips; and produce environmental benefits while enhancing economic activity.
In April, Montgomery County's Department of Transportation (MCDOT) signed a contract with Alta Bicycle Share to bring the popular Capital Bikeshare program to Montgomery County. The contract provides for equipment purchase and operating costs for the program.
MCDOT's top priority is to ensure the safety of riders by locating stations in areas with safe connections to activity centers and other stations, including bike paths, bike lanes and sidewalks, or on streets that are less congested by traffic. MCDOT is working with the Washington Metropolitan Area Transit Authority on locating Bikeshare stations at each of the Metrorail stations in the areas to be served.
Bikesharing provides short-term bicycle rentals at self-service, automated, solar-powered docking stations sited at publicly accessible locations. Bikes may be picked up at one location and returned to another, creating a system that allows for one-way trips. Bikeshare is considered ideal for short trips of less than five miles. Trips under 30 minutes are included in the membership fee, while longer trips are charged based on their duration.
Membership options cost $75 a year, $25 a month, $15 for three days and $7 for one day. Yearly and monthly memberships can be purchased online or by phone, while the three-day and one-day memberships can be purchased with a credit card at any Capital Bikeshare station.
Over the next few weeks, the remaining Montgomery County stations will open. More information and a map showing installed stations in the County is available at www.montgomerycountymd.gov/bikeshare. Visit www.capitalbikeshare.com   for more information on the entire regional system. For information on eligibility for free Bikeshare memberships and JARC program benefits, contact Montgomery County Commuter Services at 240.777.8380 or mcdot.CommuterServices@montgomerycountymd.gov.
(FACT FILE)
PEDAL POWER
14 Launch stations
Takoma Park
Philadelphia & Maple: 15-dock
Maple & Ritchie: 19-dock
Silver Spring
Colesville & Wayne: 19-dock
Fenton & NY: 15-dock
13th & Eastern: 15-dock
Friendship Heights
Wisconsin & Wisconsin Circle: 19-dock
Bethesda
Cordell & Norfolk: 11-dock
Bethesda & Arlington: 19-dock
Montgomery & East: 11-dock
Norfolk & Fairmont: 11-dock
Rockville/Shady Grove:
Frederick & Horners: 11-dock
Montgomery & Maryland: 15-dock
Fallsgrove & Fallsgrove: 19-dock
Traville Gateway & Gudelsky: 19-dock