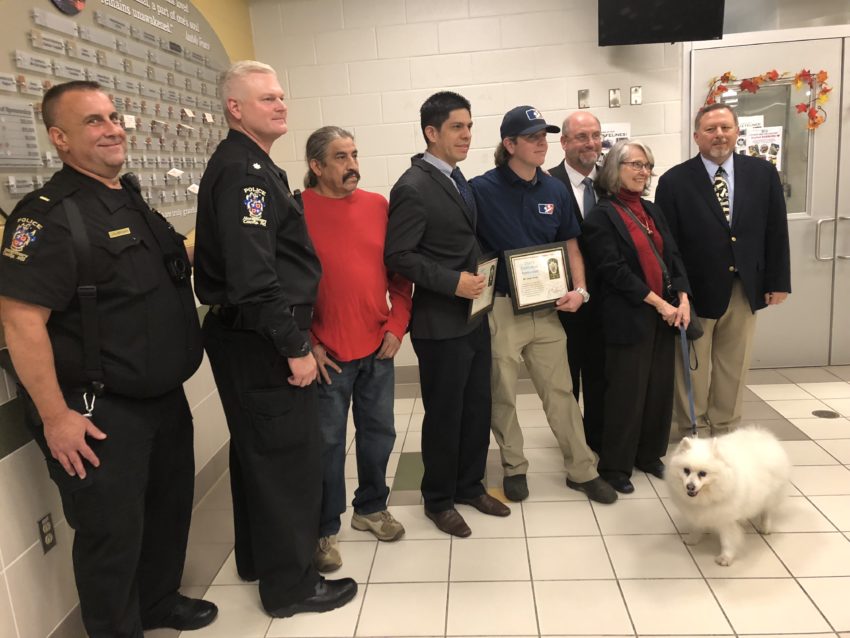 Montgomery County Men Honored for Heroic Efforts during Two Separate Dog Attacks
Montgomery County Police Animal Services Division honored two community members, Lucas Burger and Jorge Quintanilla, for their life saving efforts in two separate dog attacks.  The men were presented with Montgomery County Police "Chief's Certificates of Appreciation" at the Montgomery County Animal Services and Adoption Center in Derwood on Friday, Nov. 9.
Lucas Burger Rescues Bethesda Couple
Burger's award came for his efforts in helping save the lives of Francisco Gonzalez, Sandra Dembski (Gonzalez's wife), and Yuki, their Japanese Spitz dog.
The attack occurred on May 15 in Bethesda. Gonzalez was with Yuki in his front yard, when two pit-bulls entered the property and started attacking them. The pit-bulls knocked down Gonzalez and bit him repeatedly. Dembski heard the commotion outside, and started screaming for help.
Burger happened to be in the neighborhood driving in his work truck, when he heard Dembski's screams. He pulled over, grabbed a broom out of his truck, and charged at the pit-bulls who were attacking Gonzalez and Yuki.
"I started hitting the dog that was attacking Yuki as hard as I could in the face, until the dog let go of Yuki," said Burger.  "At that time the [second pit-bull] came around and actually squared up with me and tried to attack me."
But the second pit-bull backed off of Burger quickly.
"I guess the dog realized I was dominant at the time because I was fending him off," said Burger."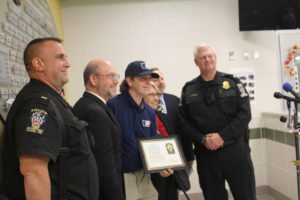 Then, one of the pit-bulls headed toward Dembski. At that point, Burger chased after the dog until Gonzalez, Dembski, and Yuki made it safely inside.
"I could have been injured as well. It was a scary situation but I figured any help would help," said Burger.
When Burger earned his Chief's Certificates of Appreciation, Gonzalez, Dembski and Yuki were in attendance.
Gonzalez publicly thanked Burger on behalf of his family.
"I've been in dangerous situations both by serving in the military and in the foreign service, but I've never been in a situation where I thought I was going to die," said Gonzales. "Were it not for Lucas, I would have died, and so would Yuki–and certainly [my wife would have faced more danger]. So we are really, really, amazed and thankful for Lucas."
Jorge Quintanilla Rescues Adiel Salazar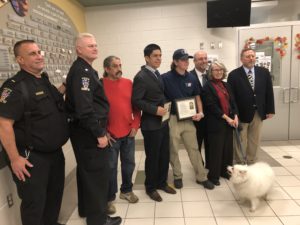 Jorge Quintanilla earned his award for saving Adiel Salazar's life. On July 21, Salazar was working near Quince Orchard Road, helping a Gaithersburg resident fix a leaky gutter.
The resident had two pit-bulls chained up outside. Salazar, who's afraid of pit-bulls, asked the owner to bring the dogs inside, but the owner refused.
"I've seen a lot of attacks on the news where [pit-bulls] turn on their owners, [so] I've always been afraid of that type of breed," said Salazar.
Because the owner refused, Salazar started walking to his work van to get away from the dogs. However, before he got to his van, the two pit-bulls broke free of their chains and began to attack.
He started screaming as he ran down the driveway. The two pitbulls chased Salazar, biting his arms, legs and body. By the time Salazar reached the street, one of the dogs was hanging from his arm.
Quintanilla noticed the attack as he was driving by in his pickup truck. He pulled over, jumped out of his truck, and grabbed a stick, which he used to pry the dog off of Salazar's arm.
Once the dog released its grip, the two men retreated to their respective trucks before the pit-bulls could continue attacking them.
Tom Koenig, the director of Montgomery County Animal Services Division described the physical aftermath of the attack for Salazar. He said that by the time police arrived at the scene, Salazar's "arm was split open, his bone was exposed, and his legs looked like he had been stabbed multiple times."
When Salazar was transported to Shady Grove Hospital, they told him he was lucky to be alive in that moment, and he probably wouldn't make it. So to help him receive more care, Salazar was transferred to Suburban Hospital.
"I'm still recovering and I'm still having issues with my legs," said Salazar. "It's going to take at least a year for me to fully recover."
As his wounds continue to heal, Salazar remains grateful for the help he received from first responders, doctors, and Quintanilla.
"I'm just glad that I was there at the right time, and I believe everything is because it was God's willing I was there, because I'm not supposed to drive in that area," said Quintanilla.
Media From The Event
Today @mcpnews honored two heroes who saved their fellow Montgomery County citizens in two separate pitbull attacks. I am at the @mcasac in Derwood. pic.twitter.com/ILBH16ll7L

— Deirdre Byrne (@DeirdreByrneMCM) November 9, 2018
As a veteran, Gonzales has been in dangerous situations before, but next did he expect a dog attack.

Francisco Gonzales thanks Lucas Berger for saving saving his life. pic.twitter.com/rtyfMioDsA

— Deirdre Byrne (@DeirdreByrneMCM) November 9, 2018
In July 2018, Adiel Salazar has been attacked during work in Gaithersburg. He was providing gutter repair to a resident and he asked the resident to put his tethered pit-bull inside; the resident refused to and his two pit-bulls broke free. pic.twitter.com/thKkhUs0rW

— Deirdre Byrne (@DeirdreByrneMCM) November 9, 2018
After the ceremony, Sandra Dembski reflected on the incident: "Having Lucas here, being like Superman… it's just wonderful that the county is recognizing the work of the people who live here. When you see one person helping another person it's something to aspire to." pic.twitter.com/Px8hbbt5xh

— Deirdre Byrne (@DeirdreByrneMCM) November 9, 2018