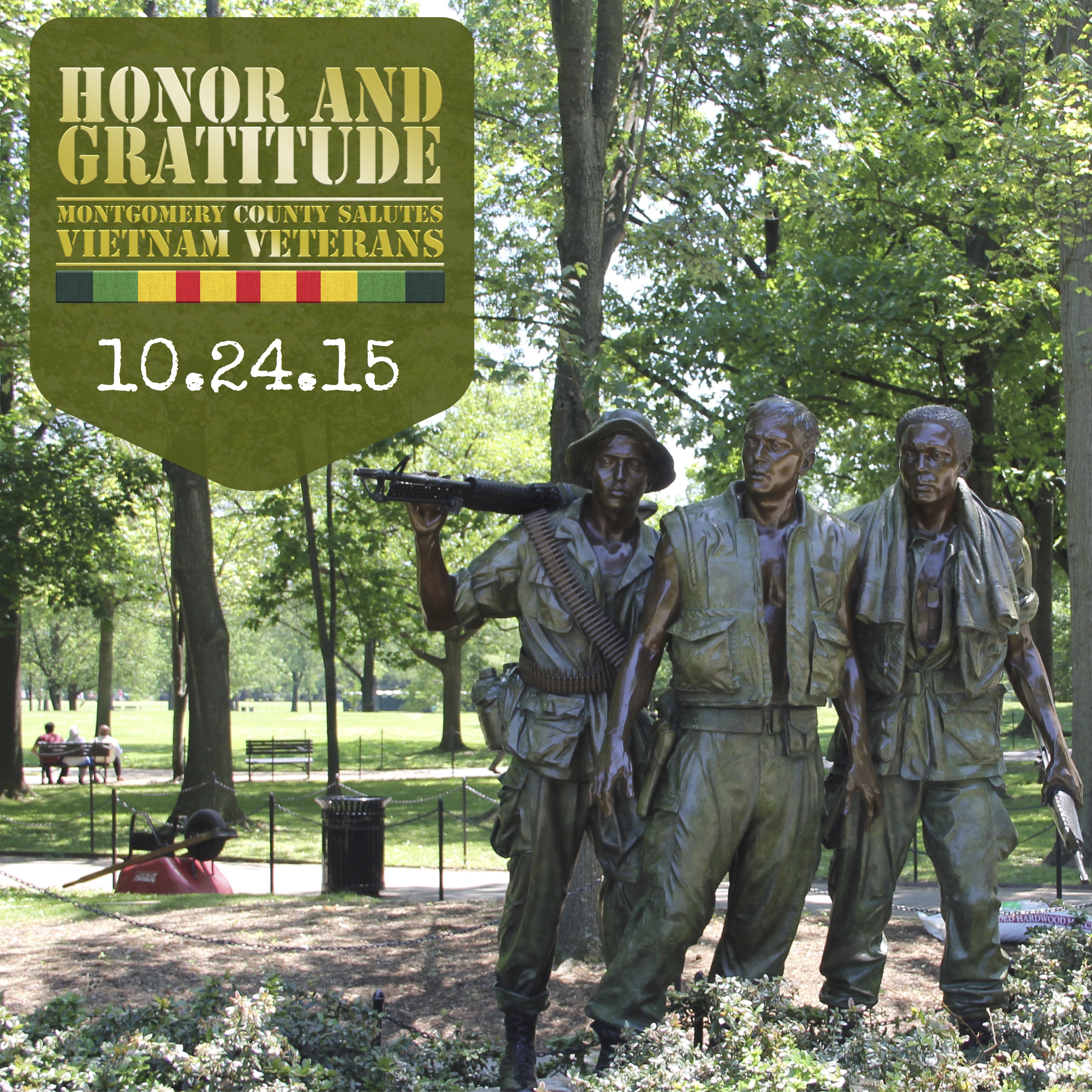 Montgomery County Plans a Salute for Vietnam Veterans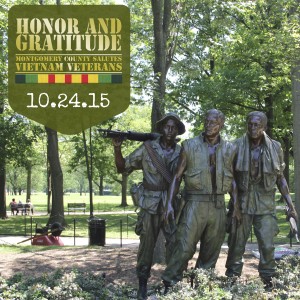 The Vietnam War—which changed the lives of those who fought and altered the political scene back home—ended for the United States in 1975.
On Saturday, Oct. 24, Montgomery County officials plan to honor the men and women who served their nation at that time with a special program.
County Executive Ike Leggett (who is a Vietnam vet), Council President George Leventhal and the County Council will lead the special ceremonies for Honor and Gratitude: Montgomery County Salutes Vietnam Veterans that will begin at 10:30 a.m. at the Universities at Shady Grove at 9630 Gudelsky Drive in Rockville. The event will be simulcast live on many of the County's public cable television channels that compose the PEG (Public, Education, Government) organization, which is hosting the event. In addition, the PEG organization will be recording the stories of many of the veterans for a documentary.
There are more than 13,000 Vietnam veterans living in Montgomery County. This will be the first major event in the County to honor their service since American troops evacuated in April 1975. It is estimated that between 130 and 140 Montgomery County residents lost their lives in the Vietnam War.
The program will include a look back at some of the significant events of the U.S. involvement of the conflict that dates to July 8, 1959, when two U.S. military advisers were killed in a raid at Bien Hoa. More than 800 people are expected for the Oct. 24 event, including those who were present in major actions of the 11-year U.S. involvement. Those events included attacks on the USS Maddox in August 1964 that led to Congress on Aug. 7, 1964, passing the Gulf of Tonkin Resolution that gave President Lyndon Johnson the power to take whatever actions he saw necessary to defend South Vietnam against Viet Cong forces.
Organizers of this event are currently seeking to contact more of the veterans who will be honored on Oct 24. Those veterans, or family and friends of the veterans, seeking more information about the event should call 301.424.1730, ext. 350.
"It has been almost four decades since our Vietnam veterans returned home," said Leggett. "We want to take this opportunity to acknowledge their courage and patriotism and say thank you for making the world a better place. As a veteran of the Vietnam War, I know the sacrifices that were made by members of our military during times of war. This event is a perfect way for all of us to pay tribute to these brave and honorable men and women."
Speakers at the event will include veterans who served in various aspects of the Vietnam conflict. The event will honor their service and also will look at how those experiences influenced their lives since.
"So many in our community heroically served our nation, and the world, 40 years ago," said Leventhal. "October 24 will be a day where our County recognizes those whose actions helped that had such a great impact on our nation. There have been many books written, and many movies made, about the people we will honor, but on this day, we will personally thank—and hear directly from—some of the men and women who did so much to shape the life and freedom we know today."
An important part of event will be the opportunity to record the stories of the Montgomery County residents who served in Vietnam.
"Whether they were troops in the jungles, on helicopters and bombers, serving on the ships, the river patrol boats, in the medical corps or the troops supplying them all, there are stories that have yet to be told about Vietnam," said Merlyn Reineke, chair of the PEG Governing Board. "This event will introduce a new generation to the sacrifices made by the brave men and women in Vietnam, and as the County's cable providers, we will be there to preserve these stories so future generations will know about their heroism. It is hard to believe there has never been a major event to honor Montgomery County's Vietnam vets, but we think this is the right time to salute them."
Related articles: