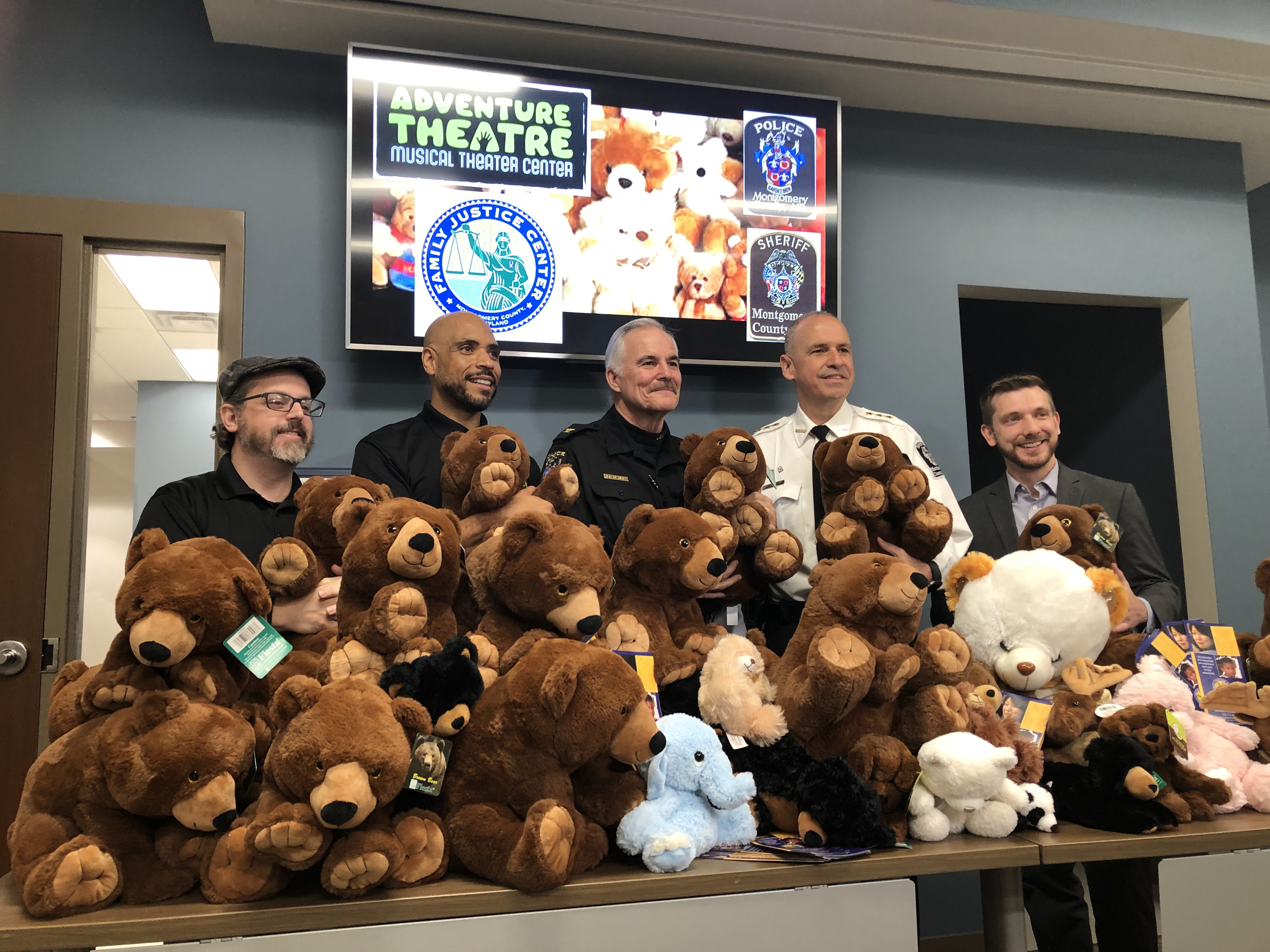 Montgomery County Police Donates Teddy Bears to Children in Need
Montgomery County Police Department accepted over 100 plush teddy bears at the Bethesda police department this afternoon. The bears, which were presented to the police department by Adventure Theatre MTC, will be donated to the Family Justice Center Foundation, which is Montgomery County's domestic violence center.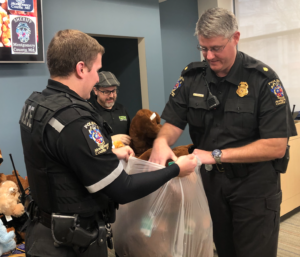 The center offers a safe space and psychological services to victims of domestic violence and their children. As tradition, the center gives teddy bears to every child it helps. The bears are donated by community members.
Tom Manion, the executive director of the Family Justice Center said that being able to give these stuffed bears to children at the end of their session is "an incredibly special moment."
"I'm always incredibly proud of the work the center does," said Manion. "But when we are able to give children a toy or a stuffed animal … it's just an incredible feeling, watching the children's faces light up when they see that, not only is there a stuffed animal there, but they can take it home with them, and it's theirs."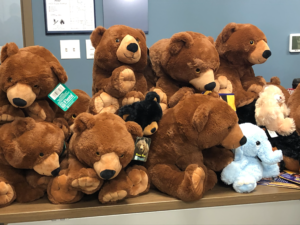 On average, the center distributes 21 stuffed bears a week to children exposed to domestic violence. According to Sheriff Darren Popkin, the police see children and mothers fleeing their homes to the Family Justice Center everyday.
"There is nothing more important than putting one of these stuffed animals in [the children's] hands as they leave the center," said Sheriff Popkin. "Unfortunately during the holiday times when everybody's family is really quite challenged thinking of their own family and buying presents, the need still remains very high for us."
According to Sheriff Popkin, 911 calls tend to go up between the Thanksgiving and Christmas holidays.
"Because of this amazing donation from Adventure Theatre and from Montgomery County Police Department, we will have enough of these [bears] through Christmas time to continue with this amazing tradition of giving these children something to smile about," said Sheriff Popkin.
Indeed, Adventure Theatre MTC collected the teddy bears throughout the fall, during performances of their original musical "Blueberries for Sal."
Leon Seemann, the managing director of Adventure Theatre, said that collecting the bears for this cause made sense him.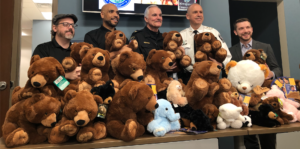 "Theatre was always my safe space, so to be able to provide a safe moment for kids on a traumatic day really resonated with me and the rest of the staff," said Seeman. "The arts make us all feel better, but frequently they're used as part of the recovery process of trauma and are used during times of great change, struggle, or if you need a friend."
Seeman said that patrons at the show "came out in droves" willing to donate bears to this cause.
"These [bears] are so necessary and provide such value and we are so thankful for Adventure Theatre for providing these bears. They will do much good for children around Montgomery County," said Montgomery County Police Chief Tom Manger.