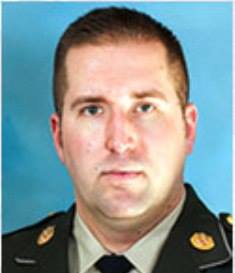 Montgomery County Police Officer Honored
Montgomery County Police Officer Jonathan Pruziner  is the recipient of the 2014 Capital Area Chapter of the Theodore Roosevelt Association's Theodore Roosevelt Police Award.
Theodore Roosevelt Police Awards honor those hometown heroes who experience serious injuries or illnesses but continue to render praiseworthy service to their departments.
Pruziner came in contact with an improvised explosive device in 2007 while serving in Iraq as a Specialist with the U.S. Army Second Cavalry, according to a police press release. The impact severed his leg at the boot, ripped open his left arm and one of its arteries, ruptured his intestines, and shattered his ear drums and ear bones. After extensive trauma surgery and a lengthy rehabilitation—including being fitted with a prosthetic limb—Pruziner enrolled in the Montgomery County Police Academy and joined the Montgomery County Police Department in January 2013. He continues to serve the department today as a patrol officer in the County's Fifth District.