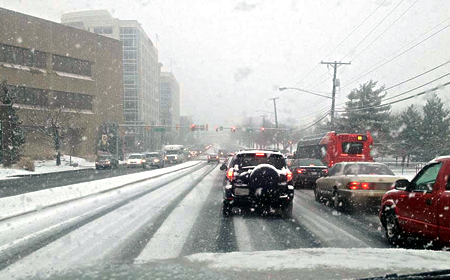 UPDATED: Montgomery County Prepares for Snow
UPDATED Montgomery County highway crews are preparing for some snow later today.
According to a post on Twitter, the Storm Operations Center is activating at 4 p.m. so crews can prepare for Winter Storm Helena. So far, the county's winter storm information portal has not been updated.
Montgomery County spokesperson Esther Bowring said crews have pretreated 1,000 lane miles of primary roads with salt brine. She said the substance keeps the snow from bonding to the pavement and it helps melt a small amount of snow.
In addition, Bowring said crews are pre-positioning all trucks at the beginning of their shifts so they are ready to go. She said crews will clear emergency routes and bus routes first.
She also wants to remind commuters that rush hour storms have been problematic in the past. She said it's important to remember that the major commuting routes, such as I-270 and 495, are state roads. Bowring suggests you keep an eye on the weather and try to get where you are going before the snow starts. That will also help keep cars off the road so the snow plow crews can do their work, she noted.
The National Weather Service (NWS) is expecting light snow to begin falling around 7 p.m. today. A winter weather advisory is in effect from 6 p.m. today until 5 a.m. on Friday. According to the advisory, residents should prepare for one to two inches of snow.
In the city of Gaithersburg, Public Works Operations Division Chief Mark Scafide says crews have pre-treated roads and have called fifty percent of the snow removal crew or about 35 employees in for duty.  According to Scafide, the city is preparing for a coating to an inch of snow. He said crews will start plowing if more than two inches of snow falls.
"This is a little warm up compared to last year," said Scafide, adding that city crews want to make sure the roads are ready for rush hour on Friday morning.
So far, there has been no word on school delays or cancellations.
A spokesperson for Montgomery County Public Schools, Derek Turner, said the district "will announce any closings, cancellations and delays on our website, Twitter, via press release, through Alert MCPS and a handful of other mediums as soon as we have a decision."
Although there is a new superintendent leading the district, Turner said there has been no change to the process for announcing snow delays or cancellations from last year.
Winter Weather Advisory issued for parts of the area. #DCwx #MDwx #VAwx #WVwx pic.twitter.com/OZDE4WMu8P

— NWS DC/Baltimore (@NWS_BaltWash) January 5, 2017
Winter Weather Adv. from 6:00 pm Thur – 5:00 am Fri. Expect 1- 2″ of snow. Use caution if driving. More info: https://t.co/UUj4vocKlF #mdwx

— MC Emergency Mgmt (@ReadyMontgomery) January 5, 2017
Storm Operations Center is activating at 4:00 PM today in response to Winter Storm Helena. More updates to follow @MoCoCouncilMD @mymcmedia

— MC Highway Services (@MontCo_Highways) January 5, 2017
Stay wx aware today, as the 1st accum. snow this season is expected.Remember even light amts of snow can cause hazardous driving conditions! pic.twitter.com/PlaH8jJrPi

— NWS DC/Baltimore (@NWS_BaltWash) January 5, 2017
County crews have already pretreated roughly 1,000 miles of Primary/Arterial roads. #mdtraffic #winterstormhelena @MoCoCouncilMD @mymcmedia

— MC Highway Services (@MontCo_Highways) January 5, 2017