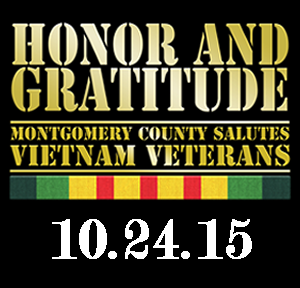 Honor and Gratitude: A Salute to Montgomery County's Vietnam Veterans (VIDEOS)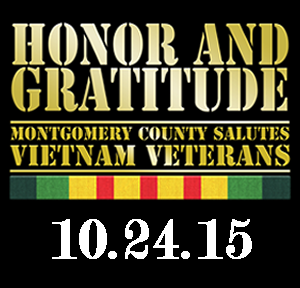 Montgomery County will honor the men and women who served during the Vietnam War on October 24th at 10:30 a.m. at the Universities at Shady Grove in Rockville.
Now is the time to register for this free program: Honor and Gratitude: A Salute to Montgomery County's Vietnam Veterans. You can find more information about this program on  its official website: www.mocovietnamvets.org.
You can also follow the event on Facebook  and for more MyMCMedia coverage, visit the Montgomery County Honors Our Vietnam Veterans web page.
Bob Schieffer, who recently retired as host of CBS's Face the Nation, will be the host and guest speaker at the Oct. 24th event.
The Vietnam War ended for the United States in 1975. Honor and Gratitude: Montgomery Salutes Vietnam Veterans is the first significant event in the 40 years since to honor the county's Vietnam War veterans. It is estimated that between 130 and 140 Montgomery County residents lost their lives in the Vietnam War. There are more than 13,000 Vietnam veterans currently living in Montgomery County.
The event and associated television documentary is being produced by Montgomery County's Public, Education and Government (PEG) media organizations. The Montgomery County PEGs are committed to providing access to education, government, the arts, and the free exchange of information and ideas for our dynamic and growing communities. The PEG's include Montgomery County Public Schools, Montgomery College, Montgomery Community Media and Montgomery County Government.
An important part of the event will be the opportunity to record the stories of the Montgomery residents who served in Vietnam. In this video clip below, Jane McCarthy, an Olney resident, talks about her experiences as a young Army nurse serving in Vietnam.
Don't miss this opportunity to thank those who served our nation during the Vietnam War. We hope to see you on Oct. 24th at the Universities at Shady Grove.