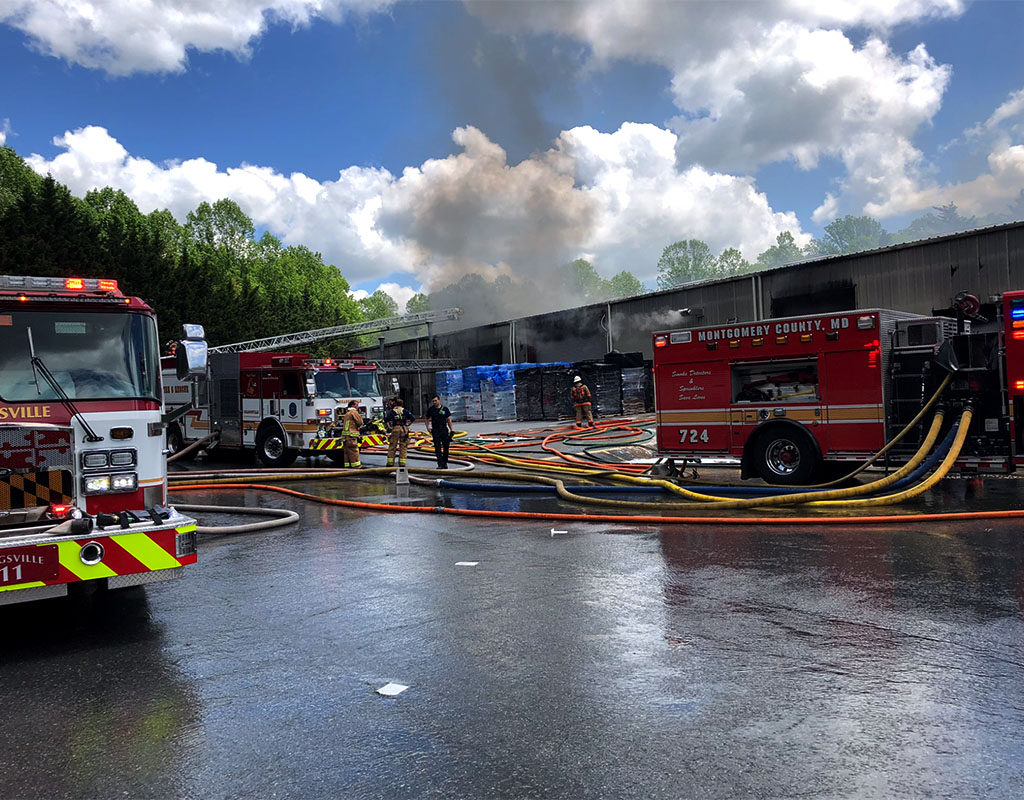 Montgomery, Howard, PG County Firefighters Contain Burtonsville Fire
Firefighters contained a large fire at Bell Nursery Factory in Burtonsville, according to Pete Piringer, the spokesperson for Montgomery County Fire & Rescue Services.
According to Piringer, firefighters from Montgomery, Howard, and Prince George's County were dispatched at around 12:20 p.m. on Monday in response to the fire.
When firefighters arrived at the scene, Piringer said that they were met with a large amount of smoke, so they called for a water supply task force. Eventually, more than 100 firefighters were at the scene of the fire, Piringer said.
Piringer said that a 100 x 300-foot warehouse was on fire for unknown causes. The warehouse contained items like fertilizer, some seed, and some other equipment.
By 2:30 p.m., Piringer said that the "bulk" of the fire had been knocked down, but the team was still working on putting out "hot spots." MCFRS's hazardous material team also came to the scene to assist with the situation, Piringer said.
No one was injured from the fire, according to Piringer. The cause of the fire is still under investigation, but fire officials believe that the fire was accidental.
Piringer said that the damage from the fire is likely to be significant.
— Pete Piringer (@mcfrsPIO) May 6, 2019
2nd Alarm (plus) Bell Nursery, Burtonsville pic.twitter.com/gaHBumzyfu

— Pete Piringer (@mcfrsPIO) May 6, 2019
Bell Nursery, Burtonsville, large warehouse, significant involvement, involves materials incl large quantities feed, seeds, equipment pic.twitter.com/goVwMuPA6G

— Pete Piringer (@mcfrsPIO) May 6, 2019
Initial dispatch ~1220p for unknown fire in large nursery warehouse, currently ~100 FFs on scene pic.twitter.com/YrIXNCLxxU

— Pete Piringer (@mcfrsPIO) May 6, 2019
2nd Alarm bldg fire st Bell Nursery, Burtonsville – fire is contained pic.twitter.com/3Fmjshm9I6

— Pete Piringer (@mcfrsPIO) May 6, 2019