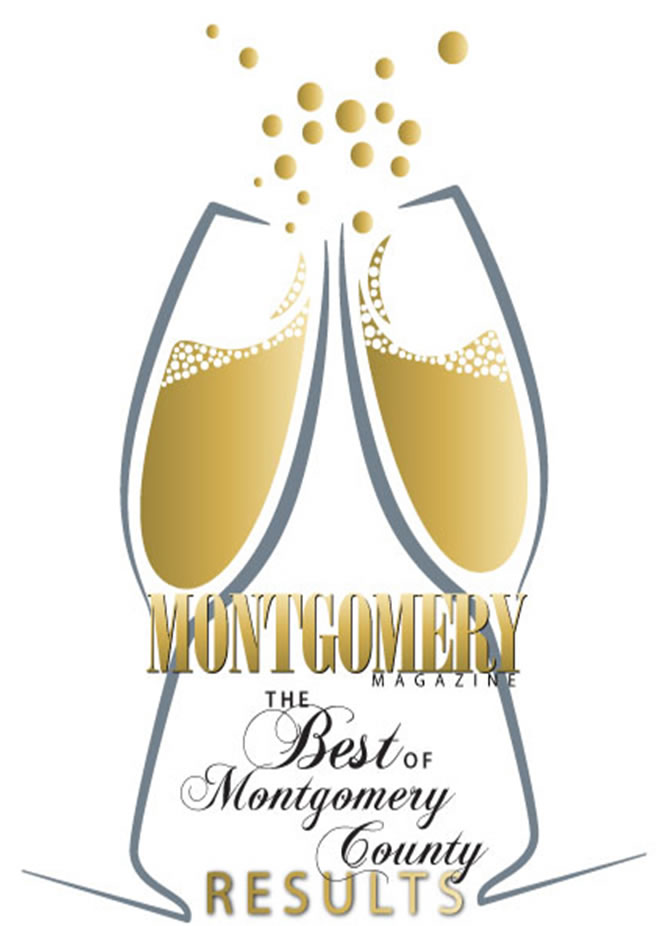 Montgomery Magazine's Inaugural Best of Survey
Before you make that dinner reservation, call a handyman or shop for jewelry it might be helpful to find out the favorite choices of other people living in Montgomery County. Montgomery Magazine conducted its first "Best of Montgomery County" survey this summer.
Publisher Soly Romero says the staff is getting positive responses to the survey. The magazine hopes to do other surveys in the future.
The Food & Drinks categories cover everything from burgers to wine bars. A variety of businesses and activities are included under Recreation & Retail winners.
Here are the final results released in August:
The Best of Montgomery County – 2016
BARBEQUE
Branded 72, Rockville // www.branded72.com
Rocklands, Rockville // www.rocklands.com
Urban, Sandy Spring // www.urbanbbqco.com
BURGERS
BGR – The Burger Joint* // www.brgtheburgerjoint.com
Five Guys* // www.fiveguys.com
Sunshine General Store, Brookeville //www.facebook.com/Sunshine-Store-139944961428/
DELI
Attman's, Potomac // www.attmansdeli.com
Heckman's, Bethesda // www.heckmansdeli.com
Parkway Deli, Silver Spring // www.theparkwaydeli.com
PIZZA
Frankly…Pizza, Kensington // www.franklypizza.com
Gentleman Jim's, Gaithersburg // www.gentlemanjims.biz
Inferno Pizzeria, Darnestown // www.inferno-pizzeria.com
WINGS
Bon Chon* // www.bonchon.com
Hard Times Café, Rockville // www.hardtimes.com
Outta the Way Café, Derwood // www.outta.com
CHINESE
A & J Restaurant, Rockville // www.aj-restaurant.com
China Jade, Rockville // www.chinajaderockville.numberonechinesefood.com
Far East Chinese, Rockville // www.fareastrockvillemd.com
GREEK
Athens Grill, Gaithersburg // www.athensgrill.com
Big Greek Café (The)* // www.biggreekcafe.com
Cava Mezze* // www.cavamezze.com
INDIAN
Jewel of India, Silver Spring // www.jewelofindiamd.com
Passage to India, Bethesda // www.passagetoindia.info
Tandoori Nights* // www.tandoorinightsmd.com
MEXICAN
Gringos & Mariachis, Bethesda // www.gringosandmariachis.com
Los Chorros, Wheaton // www.loschorrosrestaurant.com
Sol Azteca, Olney // www.solaztecarestaurantolney.com
THAI
Ruan Thai, Wheaton // www.ruanthaiwheaton.com
Sabai Sabai Simply Thai, Germantown // www.sabaisimplythai.com
Tara Thai* // www.tarathai.comSUSHI
En Bistro & Sushi, Potomac // www.enbistro.com
Sushiko, Chevy Chase // www.sushikorestaurants.com
Yoyogi Sushi, Gaithersburg // www.facebook.com/pages/Yoyogi-Sushi/111557108882371
FRENCH
Ev & Maddy's, Rockville // www.evmaddys.com
Ktown Bistro, Kensington // www.ktownbistro.com
Mon Ami Gabi, Bethesda // www.monamigabi.com
ITALIAN
Il Pizzico, Rockville // www.ilpizzico.com
Il Porto, Gaithersburg // www.ilportorestaurant.com
Olazzo* // www.olazzo.com
STEAKHOUSE
GrillMarX* // www.gmxsteak.com
Morton's The Steakhouse, Bethesda // www.mortons.com
Nick's Chophouse, Rockville // www.nickschophouserockville.com
VEGAN FRIENDLY
Mark's Kitchen, Takoma Park // www.markskitchen.com
Vegetable Garden, Silver Spring // www.vegetablegarden.com
Yuan Fu Vegetarian, Rockville // www.yuanfuvegetarian.com
EXPENSE ACCOUNT RESTAURANT
Black Market Bistro, Kensington // www.blackmarketrestaurant.com
Comus Inn (The), Dickerson // www.thecomusinn.com
La Ferme, Chevy Chase // www.lafermerestaurant.com
RESTAURANT ON A BUDGET
Mi La Cay, Silver Spring // www.facebook.com/Mi-La-Cay-515293128543968/
Sardi's Fusion, Olney // www.sardisfusion.com
Spice Xing, Rockville // www.passagetoindia.info
ICE CREAM PARLOR
Bruster's, Gaithersburg // www.brusters.com
Jimmie Cone, Damascus // www.facebook.com/JimmieCone/
Yummy in My Tummy, Silver Spring // www.yummyinmytummy.net
COFFEE CAFE
202 Donuts, Bethesda // www.202donuts.com
CremCafe, Rockville // www.crem-café.com
Kefa Café, Silver Spring // www.facebook.com/kefacafe/
CUPCAKE
Cupcakes Lounge, Silver Spring // www.cupcakeslounge.com
Jenny Cakes Bakery, Kensington // www.jennycakesbakery.net
Lilly Magilly's Cup Cakery, Gaithersburg // www.lillymagillys.com
BAR WITH LIVE MUSIC
Quarry House Tavern, Silver Spring // www.facebook.com/QuarryHouse/
Union Jack's* // www.unionjacksrio.com
Villain & Saint, Bethesda // www.villainandsaint.com
CRAFT BREW PUB
Dogfish Ale House, Gaithersburg // www.dogfishalehouse.com
Gilly's Craft Beer, Rockville // www.gillyscbfw.com
Growler's Brew Pub, Gaithersburg // www.growlersrestaurant.com
HAPPY HOUR
Copper Canyon Grill* // www.ccgrill.com
Jaleo, Bethesda // www.jaleo.com/Bethesda
Paladar Latin Kitchen & Rum Bar // www.paladarlatinkitchen.com
IRISH BAR
Flanagan's Harp & Fiddle, Bethesda // www.flanagansharpandfiddle.com
Irish Inn, Glen Echo // www.irishinnglenecho.com
Limerick Pub (The), Wheaton // www.thelimerickpub.net
SPORTS BAR 
Caddies on Cordell, Bethesda // www.caddiesoncordell.com
Greene Turtle (The)* // www.thegreeneturtle.com
Quincy's South Bar & Grille, Bethesda // www.quincyssouth.com
WINE BAR
Adega Wine Cellars, Silver Spring // www.adegawinecellars.com
Olney Winery, Olney // www.olneywinery.com
Vino Volo, Bethesda // www.vinovolobethesdarow.com

RECREATION & RETAIL
WINERY
Great Shoals Winery, Silver Spring // www.greatshoals.com
Rocklands Farm Winery, Poolesville // www.rocklandsfarmmd.com
Sugarloaf Mountain Vineyard, Dickerson // www.smvwinery.com
FESTIVAL/FAIR
Corktoberfest, Gaithersburg // www.corktoberfest.com
Montgomery County Agricultural Fair Gaithersburg // www.mcagfair.com
Taste of Bethesda, Bethesda // www.bethesda.org
KIDS' ATTRACTION
Earth Treks Climbing Center, Rockville // www.earthtreksclimbing.com
Rockin' Jump, Gaithersburg // www.gaithersburg.rockinjump.com
Sandy Spring Adventure Park, Silver Spring // www.sandyspringadventurepark.org
MOVIE THEATER
ArcLight Cinemas, Bethesda // www.arclightcinemas.com
AFI Silver Theatre, Silver Spring // www.afi.com.silver
iPic Pike & Rose, Rockville // www.ipictheaters.com
PUBLIC GOLF COURSE
Blue Mash, Laytonsville // www.bluemash.com
Little Bennett, Clarksburg // www.mcggolf.com
RedGate, Rockville // www.redgategolf.com
LOCAL PARK
Black Hill Regional Park, Boyds // www.montgomeryparks.org
Brookside Gardens, Wheaton // www.montgomeryparks.org
Cabin John Regional Park, Bethesda // www.montgomeryparks.org
PERFORMING ARTS CENTERBlackRock Center for Arts, Germantown // www.blackrockcenter.org
Olney Theatre Center, Olney // www.olneytheatre.org
Strathmore, Rockville // www.strathmore.org
FITNESS CLUB
Foundry Fitness, Gaithersburg // www.foundryfitnessmd.com
Sport & Health* // www.sportandhealth.com
Zengo Cycle* // www.zengocycle.com
BANK
Eagle Bank* // www.eaglebankcorp.com
Monument Bank* // www.monumentbank.com
Sandy Spring Bank* // www.sandyspringbank.com
GROCERY STORE
Dawson's Market, Rockville // www.dawsonsmarket.com
Snider's Super Foods, Silver Spring // www.snidersfood.com
Wegman's, Germantown // www.wegmans.com
HARDWARE STORE
Christopher's Hardware, Sandy Spring // www.christophershardwarestore.com
Hardware City, Kensington // www.hardwarecitymd.com
Strosniders* // www.strosniders.com
HOME FURNISHINGS
Persiano Gallery, Gaithersburg // www.persianogallery.com
Sheffield Furniture, Rockville // www.sheffiedfurniture.com
Urban Country, Bethesda // www.urbancountrydesigns.com
PET STORE
Animal Exchange, Rockville // www.424pets.com
Unleased by Petco, Aspen Hill // www.unleashedbypetco.com
Whole Pet Central, Rockville // www.wholepetcentral.com
JEWELRY
Boone & Sons Jewelers, Ch. Chase // www.booneandsons.com
Masica Diamonds, Rockville // www.masicadiamonds.com
Kendra Scott, Bethesda // www.kendrascott.com
NURSERY
American Plant Food* // www.americanplant.net
Meadows Farms* // www.meadowsfarms.com
Seasons Nursery, Gaithersburg // www.seasonsnurseryinc.com
AUTO REPAIR
Carlos Auto Service, Kensington // 301.897.0880
Graeves Auto & Tire, Olney // www.graevesauto.com
Hillmuth Auto Repair* // www.hillmuth.com
DRY CLEANER
Metro Valet Cleaners, Silver Spring // 240.839.7168
Parkway Custom Drycleaning, Chevy Chase // www.parkwaydrycleaning.com
SK Cleaners, Rockville // www.rockvillecleanerandtailor.com
RETIREMENT COMMUNITY
Fox Hill, Bethesda // www.foxhillresidences.com
Leisure World, Silver Spring // www.lwmc.com
Riderwood, Silver Spring // www.ericksonliving.com/riderwood
MAID SERVICE
Isabella Maids, Silver Spring // www.isabellamaids.com
Nav-Ex Professional Cleaning, Gaithersburg // www.navexcleaning.com
Skilled Maids, Silver Spring // www.skilledmaids.com
BALLET STUDIO
Bella Ballet, Gaithersburg // www.bellaballet.org
Metropolitan Ballet Theatre & Aca., Gaithersburg // www.mbtdance.org
Studio of Ballet Arts, Sandy Spring // www.studioofballetarts.com
CATERER
Corcoran Caterers, Silver Spring // www.corcorancaterers.com
Ridgewells Catering, Bethesda // www.ridgewells.com
Savory Gourmet, Gaithersburg // www.savorygrmt.com
ELECTRICIAN
Electrical Connections, Gaithersburg // www.electricancontractorwashington.com
Ridgeway & Ernest, Silver Spring // www.ridgewayandernest.com
Tievy Electric, Rockville // www.tievyelectric.com
HANDYMAN
Handyman 4 U, Olney // www.olneymd.org/list/member
Honeywell Contracting, Silver Spring // www.honeywellcontracting.com
JW Home Improvement, Gaithersburg // www.jwhi.com
HOME IMPROVEMENT
BBC Construction, Silver Spring // www.bbcconstructiondc.com
Chevy Chase Builders, Bethesda // www.chevychasebuilders.com
Sandy Spring Builders, Bethesda // www.sandyspringbuilders.com
HVAC COMPANY
Hecox Home Services, Olney // www.hecoxhomeservices.com
Rod Miller HVAC, Silver Spring // www.rodmillerhvacmd.com
Vito Services, Rockville // www.vitoservices.com
PAINTER
Beautiful Home Services, Poolesville // www.beautifulhomeservices.com
Benchmark Painting & Carpentry, Kensington, // www.benchmarkpainting.com
Philbrick's Decorating, Brookeville // www.olneyhousepainting.com
PLUMBING COMPANY
MH Barnes, Silver Spring // www.mhbarnes.com
Nicholson Plumbing, Kensington // www.nicholsonplumbingco.com
Stang Plumbing, Gaithersburg // www.stangplumbing.com
LAWN/LANDSCAPER
Fine Earth Landscape, Poolesville // www.fineearth.com
Johnson's Landscaping Service, Chevy Chase, // www.jlsinc.net
John Shorb Landscaping, Kensington // www.johnshorblandscaping.com
HAIR SALON
Progressions Salon, Rockville // www.progressions.com
Salon Nader, Bethesda // www.salonnader.com
Studio 1 Hair Salon, Rockville // www.facebook.com/Studio1
DAY SPA
Blu Water Day Spa, Rockville // www.bluwaterdayspa.com
Red Door Spa* // www.reddoorspas.com
Tea Spa, Silver Spring // www.teaspadc.com
NAIL SALON
Bella Seneca Nail Salon, Germantown // www.bellaseneca.com
Nails by Timothy, Rockville // www.nailsbytimothy.com
Sandy Nails, Bethesda // www.sandynailscomp.com